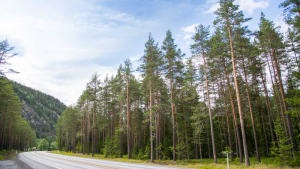 This is good news for forest conservation: Norway is becoming the first country to officially choose the path of zero deforestation. This is one of the main causes of pollution and climate change.
The Norwegian Commission for Energy and the Environment asked the national government to apply strict measures to exclude from procurement any offer from a company whose goods and products have contributed, directly or indirectly, to deforestation of the rainforest. They will have to prioritize and choose goods and services that exclude uncontrolled logging.
Many products commonly eaten around the world contribute to deforestation of the rainforest, like exotic wood, growing soy or palm oil; ingredients that are found in what we eat. Nils Hermann Ranum from the Rainforest Foundation Norway  said this is a big victory in their battle for the protection of the rainforest. "It's many years since some firms have committed to stop the procurement of goods that can be linked to the destruction of the rainforest."
In 2014, Norway had signed a joint declaration with Germany and United Kingdom at the UN's Climate Summit in New York. This agreement meant "to promote national commitments that encourage supply chains without deforestation, including through public procurement policies avoiding products such as palm oil, soy, beef, and timber."
However, Norway is still only on the front! Other countries have good intentions, but the Norwegians have it off. Another proof of the country's involvement is the plan to ban the sale of vehicles using petroleum-derived fuel.
Save