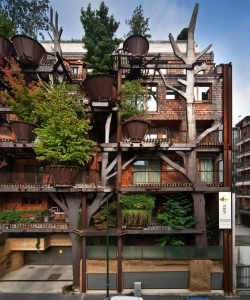 The forest- residence 25 Verde allows its residents to stay in the heart of the trees and escape from the Turin urban homogeneity. And the city comes alive.
A combination of live trees and steel branches dresses this unique 5-storey building designed by Italian architect Luciano Pia. The structure consists of 63 apartments, each having a terrace and plants just beyond their windows and walls. Every variety of plant has been chosen tenaciously from deciduous plant life in Turin to give a big diversity of colour, flora, and blossoming.
The city comes alive
Above-ground, 150 trees absorb 200 000 liters of carbon dioxide per hour and protect residents from noise. The seasonal pattern of trees also offers a microclimate favorable to residents during cold or hot seasons. And then there are the varieties of colors and flowering.
This concept of vertical forest is booming in Italy. In a previous article, we wrote how it is evolving in Milan.