The bottles of Head & Shoulders or Pantene will use more recycled plastic by the end of 2018 in Europe. This summer, the American multinational Procter & Gamble launches in France in limited edition bottles made from plastic waste picked up on beaches.
This summer, in France, Head & Shoulders will be in the beach atmosphere. This subsidiary of Procter & Gamble will market at Carrefour, in limited edition, a bottle of shampoo whose plastic will come from 25 percent of the recycling of waste collected on the beaches of France and Northern Europe. Suez sorts this waste to recover the appropriate plastic resin, high density polyethylene (HDPE). Recyclable, HDPE is used for all opaque plastic packaging. The new Suez plant in Maastricht (Netherlands) will recycle it in pellets delivered from the end of February to the packaging manufacturer of Procter & Gamble in Italy.
By the end of 2018, Procter & Gamble will use up to 25 percent recycled plastic
Suez took last year 30 percent of the European subsidiary of TerraCycle, an American company offering to improve the marketing of big brands via the recyclability of their products. TerraCycle Europe is involved in collecting campaigns on beaches. But the beaches provide only modest volumes. A dozen tons for the first campaign, says Suez, but enough to make 120,000 to 170,000 bottles of Head & Shoulders shampoo.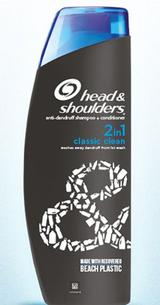 For the remaining 500 million bottles of hair products produced each year by Procter & Gamble in Europe, the group makes a second announcement: by the end of 2018, it will use up to 25 percent recycled plastic. This is good news for Suez when its new plastics recycling plant in Maastricht (ninth in Europe) officially starts. This unit, which will produce 25,000 tonnes of recycled plastic pellets this year and 36,000 next year, can recycle HDPE at less than 1,200 Euros per ton, less than the price of virgin HDPE (from 1,200 to 1,300 Euros per year). Tonne), argues Suez.
This will help manufacturers use more recycled plastic as it is predicted that by 2050 there would probably be more plastic than fish in the world's oceans.