Detroit, symbol of the success of the auto industry and the American dream, was officially declared bankrupt in 2013, crushed by $ 18.5 billion in debt. But the inhabitants have decided to take their destiny in their hands and today propose a sustainable urban agriculture.
Detroit, the largest city in the United States, has lost half of its population in 60 years. It embodies the limits of a self-destructive capitalism. But, in the eyes of many locals, it is also a timely fallow to think of another way of living together, more autonomous, more equitable and more lasting …
Many inhabitants have come to create their own garden.
Hence, there was the taking over of some 1,500 farms and urban gardens on the vacant hundreds of acres of the city, in the family and schools backyards. From then, the first sustainable agriculture in America is developing, slowly but surely, in Detroit thanks to the Michigan Urban Agriculture Initiative or the Greening of Detroit and other associations too.
The Greening of Detroit association cultivates an urban garden. Many inhabitants have come to create their own garden. In the eastern green space of the market, there are more than a thousand to have taken courses. Some for their own production while others to start their businesses. There will be 350 to 5,000 jobs available throughout the city.
Land and space are not lacking in Detroit: a quarter of its inhabitants have left, in a decade. The collapse of the auto industry has wreaked havoc. "In the neighbourhood where I grew up, abandoned homes have multiplied. Pillaged, squatted, they generated a lot of insecurity. Rather than letting the situation becoming worse, the residents took over the premises and started a community garden," said Tee Rushdan, director of urban agriculture at The Greening of Detroit.
The Michigan Urban Agriculture Initiative is a non-profit organization, but the mission is to use urban agriculture as a platform to promote education, sustainability and community in an effort to raise and empower urban neighbourhoods.
With the support of partners like sustainable brands, BASF, General Motors and Herman Miller, they started to renovate a three-storey, 3,200-square-foot vacant building that MUFI had bought from an auction, to create a sustainable and eco-energetic Community Resource Centre (CRC ).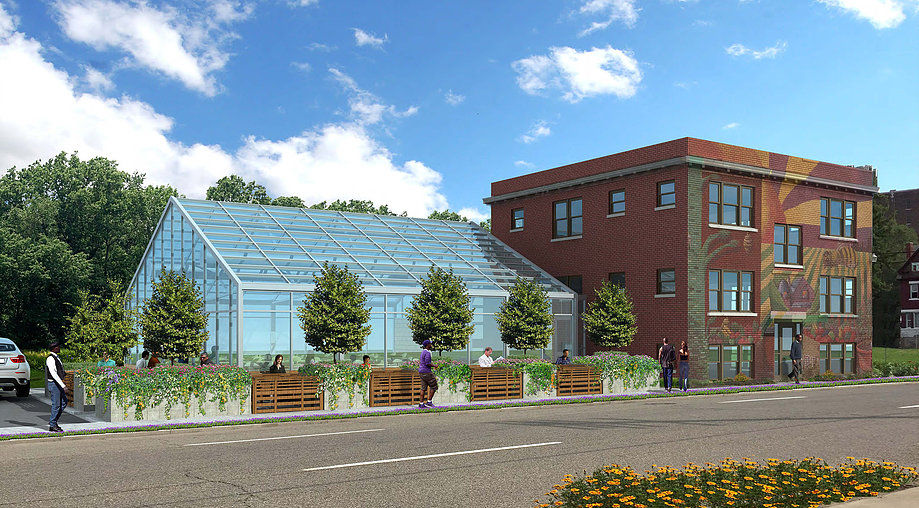 Other works for agriculture include the restoration of a house for the accommodation of interned students and a two-bedroom container house. They also set about transforming a fire damaged house (in which only the subsoil remained) into a water harvesting cistern to irrigate the garden.
Whether it is for the Michigan Urban Agriculture Initiative or the Greening of Detroit, reclaiming land has been the answer to a legitimate sense of abandonment among the people. Tee Rushdan explains, "if I cannot trust the government, I will do it myself".
In you are in Michigan, Detroit and want to join the program; you can download an application here.