And if it were enough to paint the roads in white to limit the extreme heat in the city? This is what the city of Los Angeles is experiencing, where temperatures are around 40 ° C in summer. This simple technique requires very little investment for an immediate result. The city of the Angels is one of the first megacities in the world to test what are called "cool pavements" or "fresh pavements". The principle is simple: apply a clear special coating and avoid reflections. Armed with perch rollers, the technical services of the municipality began to repaint the bitumen throughout the city at the beginning of August.
Global warming means that heat records are regularly beaten around the world, as in Iran (53.7 ° C) or in southern France in July 2017. In California, as in all the south-west of the United States, in the summer, drought and intense heat are manifest, as evidenced by problems with drinking water supplies in Los Angeles.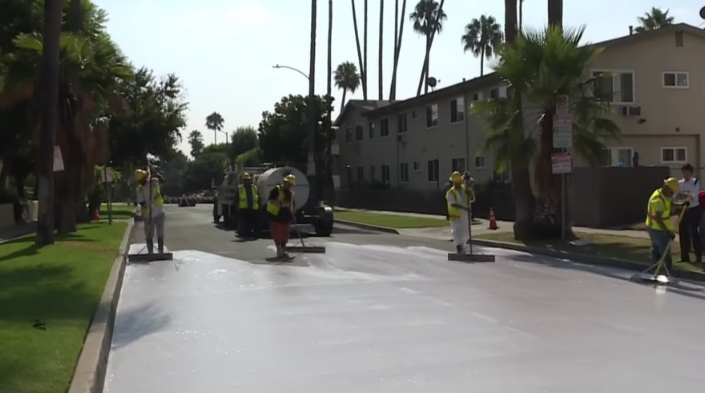 The usual black pavement bitumen stores 80 to 95% of the sun's light, while the pale coatings reflect it, dramatically lowering the ground temperature, according to advocates of this technology.
"The heat here on the black surface … it's 42 or 43 ° C right now. And on the dry surface on the other side, when a single layer of white was put on and the second layer had to be put, it was 36 ° C. So we see a temperature difference of 6 to 7 ° C, "said Jeff Luzar, vice president of Guartop, during a demonstration reported AFP. Guartop provide materials and services that improve the aesthetics and longevity of pavements without compromising safety or the environment
George Ban-Weiss, Assistant Professor of Civil and Environmental Engineering at USC University, said that "cool pavements" offer real promise in terms of fighting global warming in cities where bitumen and demographic and automotive concentration create a so-called "heat island" effect.
This technology protects many people at low cost in high-density urban areas
Pavements reflecting solar heat are one of the strategies, such as refreshing roofs or planting trees, that cities can adopt to reduce urban temperatures," said the technology expert.
Los Angeles is the first city in California to test this "fresh roadway" on a public road, says Greg Spotts, deputy director of the Los Angeles Road Maintenance Office. "This has already been done on parking lots. It is hoped that other cities will be inspired (…) and that manufacturers will develop new products," he said.
The municipality must now observe the inhabitants' reactions to these unusual white pavements, and see how quickly they get dirty at the passage of cars, to the flows of oil, gasoline, etc.
Alan Barreca, a professor of environmental science at UCLA, notes that "there is already an effective technology to protect us from heat waves, it's called air conditioning," but that "not everybody has the means of having them at home "whereas the" benefit of fresh pavements is felt by everyone ".
In addition, "less dependence on air conditioning means less greenhouse gas emissions" and energy consumption, he adds.
According to him, this inexpensive technology – costing $ 40,000 per mile (1.6 km) for seven years – has the potential to protect "many people at low cost in high-density urban areas" like Los Angeles, and thus appears to be more attractive in these areas than in the less densely populated suburbs.
The city of Los Angeles is the first US agglomeration to test this coating and the technique is recommended by the Cities Climate Leadership Group (C40), an organization fighting against global warming.