In an article last year, we featured a young Icelandic who produced a bottle of biodegradable water from seaweed. We can now say he is not alone as in France Nicolas Moufflet, is the first person in the world to launch the concept of bottles made from sugar cane or even olive kernels. Thanks to a secret process, these bottles are biodegradable and compostable.
In Saintes, in the region of Charente-Maritime, Nicolas Moufflet is at the head of Lyspackaging, his company founded in 2015. This 41-year-old engineer has been marketing bottles and flasks "without a single drop of oil", unlike the vast majority of plastics sold throughout the world. The process, patented and secret, remains for the moment unique in the world. No industry has yet invested this niche as more than 22,000 tonnes of plastic from the petrochemical industry end up in the oceans every day.
In order to achieve this feat, Nicolas Moufflet chose bagasse, the waste of sugar cane, which has amazing properties. "I specifically developed bagasse granules optimised to receive food," he explains. Transformed into vegetable plastic, bagasse retains the ability to be recycled or composted easily. "A credible alternative to oil," argues the entrepreneur with several awards and support from Bpifrance, the Public Investment Bank.
In the warehouse of Nicolas Moufflet, hundreds of small sugar tubes are about to pass in a huge cube-shaped machine. "The test tubes go into an oven where they are heated, and then they go into a mould that is tailored to the bottles they need," he says. You just have to wait a few minutes and the 100% vegetable bottles stand out. This is the only manufacturing process that this Saintais engineer can unveil.
I specifically developed bagasse granules optimised to receive food – Moufflet
He cannot unveil more about the recipe of pellets that allow him to produce his test tubes. "The only thing I can tell you is that there is sugar, the rest is secret!"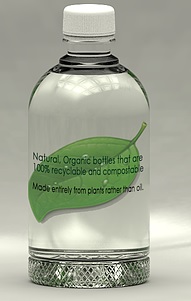 Nicolas Moufflet continues his research and dreams of a sector that can better value green waste. In his vegetable plastics from bagasse, the engineer can now add crushed olive kernels, reeds or grape seeds. Crustacean shells, grain or vegetable waste: "We are going to attack a dozen new co-products! Their quantity varies from 1 to 20%, it depends on the rendering that we want to obtain," he explains.
Nicolas Moufflet focuses on "the consistency between the contents and the container" and cites as an example the fertilizers developed for organic farming still sold in plastic bottles…. He dreams of "creating new codes for the consumer": tomorrow, olive oil will be sold in a bottle of olive kernels. Economically, this way has assets: "Green waste is buying a misery today. These vegetable bottles are still 30% more expensive to buy. But no matter, smiles Nicolas Moufflet: "We have demonstrated that this is possible."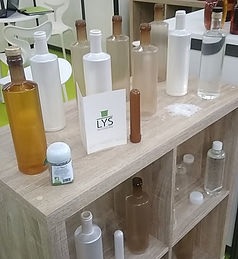 However to sustain his business Nicolas Moufflet still has to produce plastic bottles. They allow him to achieve a turnover of 600 000 Euros. This is helping him to finance his research and development, but within two years, he should totally devote himself to 100% vegetable.
Orders are beginning to flow. Lyspackaging hoped to reach a production of 700,000 vegetable bottles this year. It should easily break the two million mark. "Le Palais de Tokyo", a contemporary art centre in Paris, recently ordered 100,000 bottles. Large enterprises, groups of luxury or agri-foods are also interested in the product.