A supermarket in Berlin has set up a vertical farm inside its store. Since then, consumers are enjoying organic products at a low cost as there are no intermediaries in the production line.
The idea of this vertical farm germinated in the head of Erez Galonska. "When I traveled to remote communities where 'what you're grow is what you eat', agriculture has become a big part of my life," says Infarm's founder and CEO.
Erez Galonska has always been very passionate about food self-sufficiency. "I have discovered that the growth of food is such a powerful and natural experience. When you eat really fresh vegetables, you will immediately recognize how much more tasty and healthier they are. "
We intend to revolutionize the whole agri-food sector and make cities self-sufficient – Erez Galonska
In his apartment in town, Erez Galonska no longer feels the feeling of freedom and freshness over everything with the urban chaos, he who was hungry for a piece of land. So he did some research on the internet and found out that you can actually grow without the soil. Thus, his first encounter with hydroponics. After viewing YouTube tutorials, Galonska built a system of hydroponic pipes in his living room, which – after a month – gave a 'farm full of delicious greens'.
Today, in the Metro supermarket in Berlin, Erez Galonska has set up a vertical farm at the end of the aisle of the store's products, inside which the herbs and green products are growing.
Infarm has built the vertical farm to grow fresh local produce throughout the year. The farm is in the form of an incandescent modular box which, according to Infarm, is so effective that it can make vertical farming affordable on a micro scale.
In the box, plants do not grow on the soil, but rather grow "hydroponically" on a thin layer of water enriched in fertilizer and oxygen. To mimic sunlight while saving energy, plants are lit by LED lights. In addition, microsensors allow engineers to measure and monitor the performance of young plants. The objective is to provide ideal conditions for the plants development. A process that finally involves the store employees, responsible for monitoring the intra-greenhouse life through an application.
"With our product, we are short-circuiting the distribution chain: more import, therefore more transport and more CO2 emissions, more intermediaries, and more food waste at the end.  With this new approach, we intend to revolutionize the whole agri-food sector and make cities self-sufficient in terms of production", Erez Galonska told.
"We are confident that our food system must be decentralized and get closer to the customer, both for environmental reasons and for the quality and safety of our food," confirmed the founder and CEO.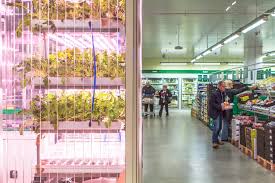 In February in Berlin, cold and snowy outside (like all over Europe), Erez Galonska collects fresh vegetables inside his apartment. The next objective of Erez Galonska is to initiate an "urban agricultural revolution" through the creation of vertical inner farms.