At the Jardin de Valériane which rides between Saint Etienne and the Rive-de-Gier in the Loire, talented owners have created a garden with beautiful herbaceous borders and superb shrubs. This organic garden has a wealth of vegetable material embellished with an astonishing use of colors.
When entering the parking lot, in the countryside, you can guess the existence of a beautiful garden. First a wide path bordered on both sides by beautiful roses and majestic trees lead you through the garden. And this show is visible all year!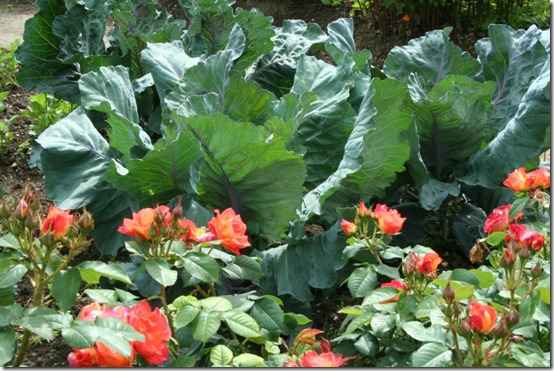 Thirty years ago, in Seine-Maritime, Marylin and Michel Tissait launched a small private garden of 4000 m2 with care and with an extensive collection of plants. A very beautiful composition to judge by the choice of plants and the lawn tightly cut. During the years, meetings with the nurserymen of their region have allowed them to deepen their knowledge and to water their insatiable curiosity.  They currently produce 50 varieties of organic vegetables.
But why this name Valerian? There are actually two species of valerian, Valeriana officinalis and V. Dioica, which are native to Great Britain, while a third, V. Pyrenaica, is naturalized in some parts. The genus includes about 150 species, which are widely distributed in the temperate regions of the world.
In medicine, V. Officinalis refers to valerian. It is supposed to be the Phu (an expression of aversion to its offensive odor) of Dioscorides and Galen, by which it is exalted as aromatic and diuretic. It was later found useful for treating certain types of epilepsy. The plant was held in such esteem in medieval times as a remedy, that it is now attributed virtues against all evils in certain parts of the country.
Marylin and Michel bought another piece of land on the other side of the road, and created a second garden, open for visit since 2008. There, they were pleased with the layout of a large basin, and had the happy surprise to take possession of a soil of very good quality in which today grow maples, magnolias, dogwoods and many hydrangeas … everything that they had not planted or could install in the first ! This garden also has an educational aspect with the young people who take their first steps.
Valerian  was found to be useful for treating certain types of epilepsy
So if you thought the French gardens meant Monet, Giverney and nothing more, think again. This part of the world has so much to offer, and you can easily access all these beautiful gardens from the historic town of Rouen and have some inspiration whilst enjoying a day at the garden. All visitors were very excited after their visits. One of them Nicolas Leclerc wrote: "when visiting this garden, it is happiness with great owners who know how to chat with visitors. We hate to make our wedding photos at home. Our photographer did not know Valériane and he was amazed at the beauty of the places. Very beautiful flowers, and a well kept magic place."