On 1st January 2016, the government of Mauritius banned the use of plastic bags. While Mauritians were looking for alternatives, the Junggee couple came forward with a bright ecological and sustainable idea. They launched 100% ecological upcycled bags made from used advertising banners.
SAKILI is the brand name of the upcycled bags. It has been chosen as it is a common local expression, which literally means: "This is it", or "that's the way". SAKILI is also a word play since "SAK" also means bag in the local language (Creole).
"Once A Billboard, Now A Bag" is the slogan of Nazeem and Anousha Junggee, founders of 1950 Design & Print Co Ltd. The former who boasts more than 10 years of experience in media, graphic design and printing, created his design firm at the beginning of this decade after his studies in the United States. The latter's main activity is the printing of large format advertising banners.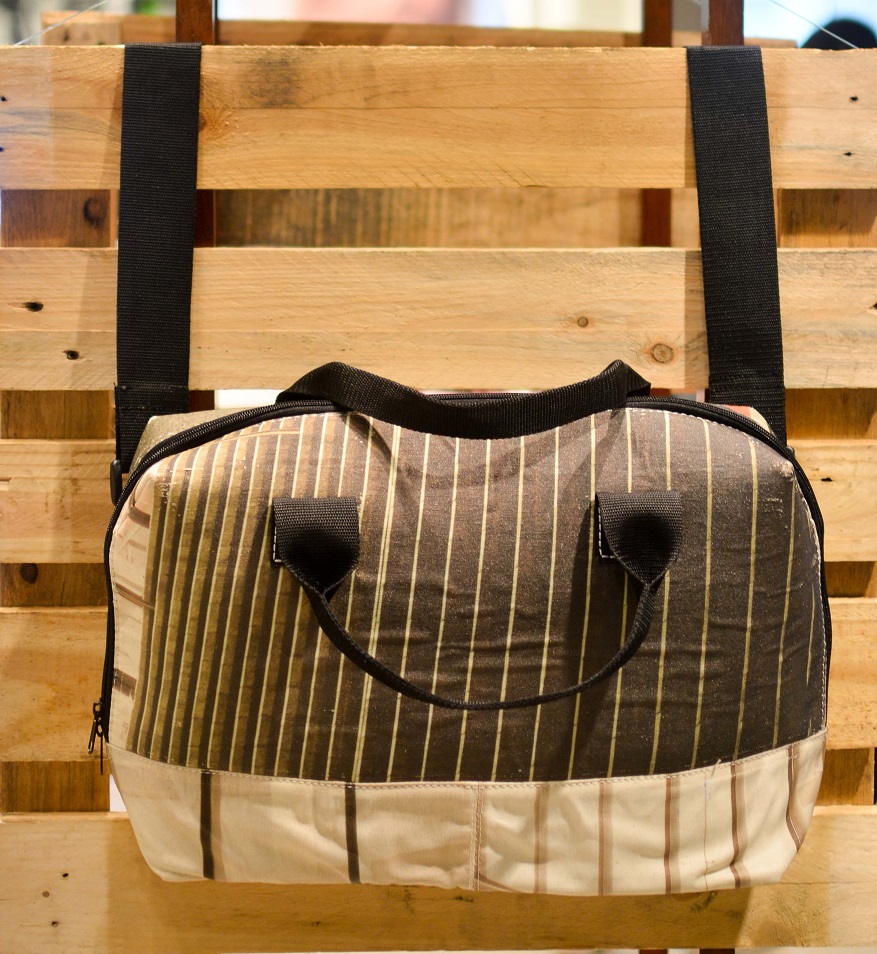 A professed environment-conscious individual, Nazeem feels guilty when he realises that banners often have a very short life and are swiftly put in the trash. "The basement of my house was used to store these banners. We wanted to do something practical, but I did not have the necessary expertise, "he said. But it did not take him long to get the knowhow. In the meantime, Anousha had enrolled in the DYB (Do your business) training, an initiative of Women in Networking and Microsoft Indian Ocean. This is where the project of "upcycling" was born.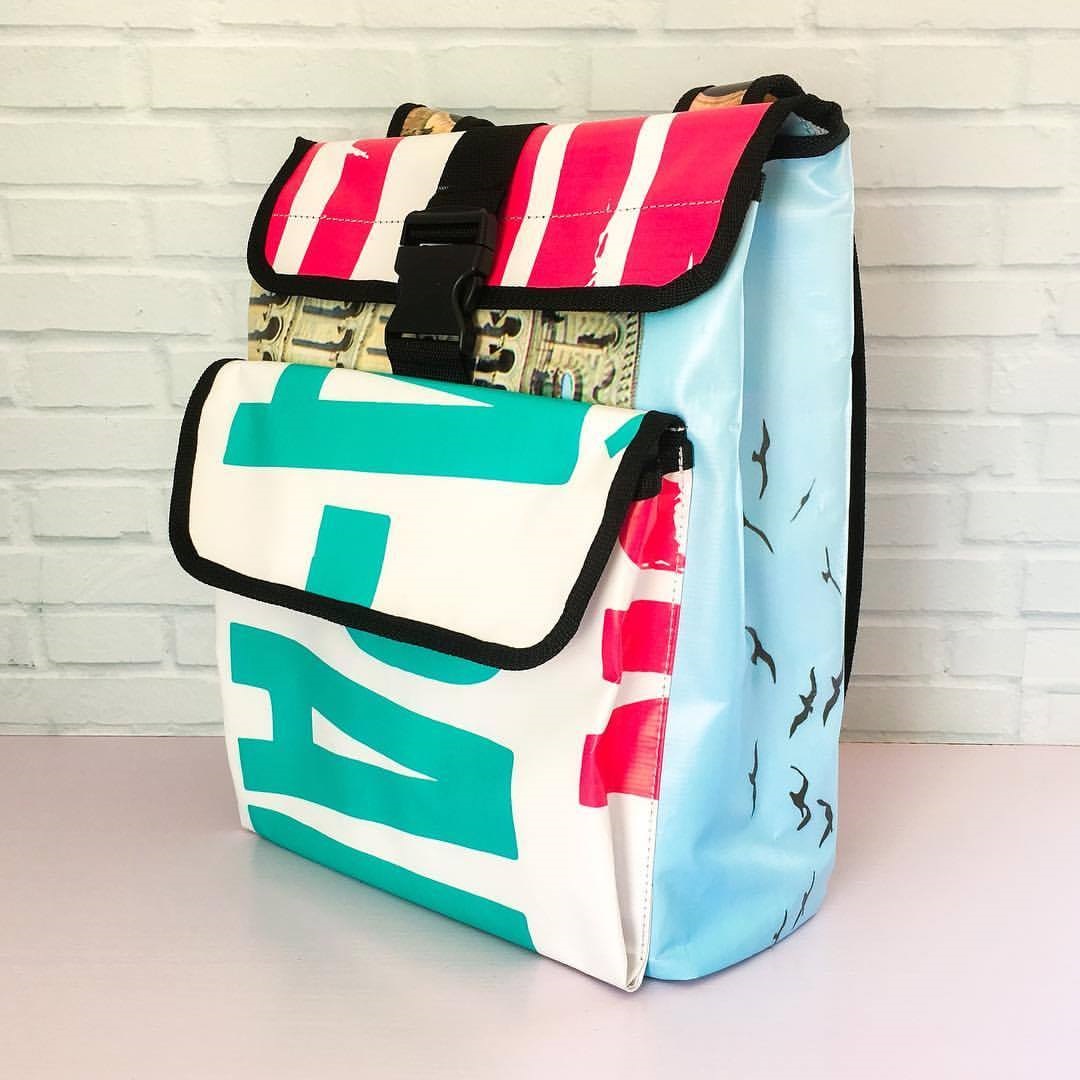 However, finding an investor was no easy task. Anousha recalled how those she approached wanted 60% of their company to make the project a reality. "We couldn't accept such proposals,"she said. Their perseverance brought Nazeem to apply for the 2016 Mandela Washington Fellowship program. He was selected and spent six weeks in Dartmouth College learning about leadership and entrepreneurship. He also won a business plan competition and was awarded a grant of $25,000 from the United States African Development Foundation (USADF). "The project that has been brewing in my head for more than five years is now a reality after I obtained the first installment of the funding last November", explained a relieved Nazeem.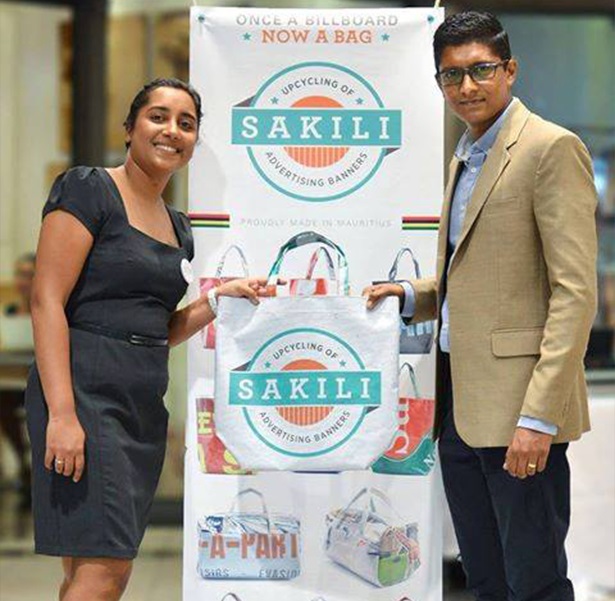 As their enterprise was already in the design and creation of banners, posters, vehicle trimmings and personalised products, they already had their "raw materials" at hand. They only had to buy two machines and hire two machinists to sew the bags. "Each piece is unique," points out Nazeem who is the one behind the design of each model of bag. "Even if I wanted to reprint the same design, I would never be able to reproduce the unique effects that weathering had on the banners. We are a start-up and we are still making prototypes."
We are positioning our enterprise as an ecological one. We want to help reduce our carbon footprint…
Questioned about the durability of the bags, Anousha replied with some pride that they have proved their sturdiness. "It has been three months since the project started, and we can say that Nazeem has been testing them personally as he uses one of his "upcycled" backpack while hiking and also when he goes out almost every day. He knew well that the material used was solid, but he still wanted to make sure of it."
Today many companies are contacting the couple to offer their banners to be "upcycled". Once recovered, the old banners are washed with clear rainwater collected earlier. "We are not going to use tap water as it doesn't befit our ecological approach," explained Anousha, who is taking care of the marketing aspects. Besides, no electrical equipment is used for drying purposes. "They are put to dry under the generous rays of the sun." Nazeem echoes his wife's comments: "We are positioning our enterprise as an ecological one. We want to help reduce our carbon footprint, so we may actively participate in the sustainable economic revolution that is taking place in the world today".
The United States African Development Foundation (USADF) was instrumental to the success of this project. The Chargé d'Affaires at the US Embassy in Mauritius, Melanie Zimmerman is full of praise about it. "It is a way to protect and beautify the planet. I will make it a must to use the Sakili bag when I go to the market," she said at the launch in April last.
Confident and enthusiastic, Nazeem and Anousha Junggee recently went to promote the SAKILI bag in Tanzania and Zambia as they are now targeting African countries where they believe the potential is huge.