Emmanuel Macron was elected President of the Republic of France after beating the extreme right candidate Marine Le Pen in a second round marked by a strong abstention. The independent centrist candidate of "En Marche", 39, will become the eighth president of the Fifth Republic, the youngest in history, obtaining between 65.9% of votes against Marine Le Pen. He promised to bring together a torn France and to renew the ties between Europe and France, also building on a project of sustainable society headlining agriculture, environment, transport and energies. All in all Macron wants to double green energy (wind and solar) by 2022 and thus reduce the use of nuclear energy. A program that aims to make France "the world leader in research on the environmental transition".
Food and agriculture
Emmanuel Macron announces a "Grenelle for food, upon arrival". In the long run, he wants "50 percent organic, ecological (certified or labelled) products or short circuits in the collective catering".
He emphasised that half of food provided in school and work canteens must be organic or locally produced
With regard to animal welfare, Emmanuel Macron is committed to modernising and strengthening European standards for slaughterhouses and to banning the sale of eggs from battery farming by 2025.
€ 5 billion is planned over five years to help the agricultural world make the transition.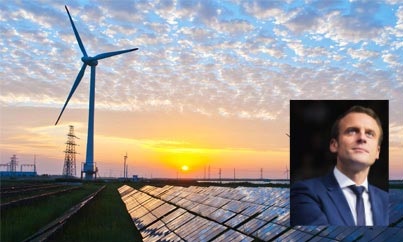 Ecological transition
Emmanuel Macron is in favour of a privileged dialogue on the climate with China and for moving "COP after COP, towards binding measures". Emmanuel Macron who wants to believe in a "chosen, selective growth" also said that "today, our growth is not sustainable because our planet is not enough." According to him, production, innovation and consumption must take the "ecological reality" into account, in particular to "over-consumption of resources" on the planet.
France must be the world leader in developing green technologies
This requires both to make ecology one of the pillars of his investment program, but also to carry out a policy of accompanying people, industries and territories to ensure the transition.
Fossil fuels, Renewable Energies and Nuclear energy
Regarding fossil fuels, Emmanuel Macron declared himself against a ban on public research on fossil fuels (as on GMOs), so as not to leave it to industry alone. The President-elect also announces the closure of all four coal-fired power stations in the country. "No new hydrocarbon exploitation permit will be granted on French territory including overseas territories, as in Guyana, where compensation will be provided. The prohibition includes shale gas, whatever the technique," he told.
Emmanuel Macron wants to accelerate the development of renewable energies (to reach 32 percent of the energy mix by 2030, in accordance with the Energy Transition Law), including simplified production authorisation and grid connection procedures. He also intends to ensure better visibility of tenders, from the beginning of his five-year period. Invitations will be launched for to tender for 26 000 MG Wh (the equivalent of 6 nuclear reactors).
Emmanuel Macro has some doubts about the feasibility of the 50 percent nuclear objective in the French power mix by 2025 (included in the Energy Transition Act). Fessenheim nuclear power plant will close, but Emmanuel Macron does not formally commit himself to any other closures.
"Everything is not to be thrown" in this technology that makes it possible to provide France with one of the least "carbon" energies of the Western world. "At the same time, we have a problem of dependency, because it is not good to have 75 percent of our electrical energy that depends on nuclear."
Transport
On the issue of diesel, Emmanuel Macron does not want to commit to a dated abandonment of fuel. However, he announces the gradual but total catch-up of the diesel taxation vis-à-vis gasoline and a conversion premium of 1 000 Euros for modest households equipped with "old diesels" for less polluting vehicles (new and second hand ones). The industrialists will be "accompanied", he assures.
About Notre Dame des Landes, which was a hot potato issue, Emmanuel Macron announces six months of studies, including the possibility to enlarge and transform the current airport of Nantes Atlantique, before definitively deciding on the realisation of the project. He refuses the evacuation of the ZAD or the use of violence.