After a successful experience in running buses on waste cooking oil from local restaurants, The Big Lemon has decided to launch United Kingdom's first solar-powered bus fleet in Brighton.
The Big Lemon offers Bus Services, Coach Hire & Festival Coaches in Brighton & Hove and beyond. They have joined hands with Brighton Energy Coop's for this Solar Bus project.
120 solar panels will be installed onto the roof of The Big Lemon's bus depot to power the new electric buses on clean green renewable energy.
30,000 kWh of electricity will be generated by this installation and it will be sufficient to fully power The Big Lemon's 52 routes between Woodingdean and Brighton city.
The busses will be charged overnight when they're not in service and moreover, batteries will store unused energy.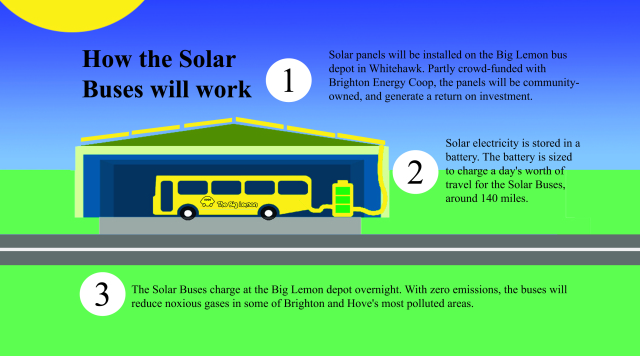 According to The Big Lemon's Managing Director, Tom Druitt "our mission is to bring zero-emissions electric buses to various regions across the UK by 2030, all run by the local community and powered by renewable energy.  This pilot project will not only be great for Brighton & Hove, it will also be a first step towards making our vision a reality".
If the total cost of the 120-panel installation will be £25,000, the company estimates that it can make £20,000 annually on fuel saving, and a reduction in maintenance costs.
Currently, The Big Lemon has 10 busses running on biodiesel, which they will eventually sell. They will rather convert 10 buses directly from diesel to solar which will be more cost-efficient; around £140,000 each. "We've estimated that there's a six-year payback on these buses and we're calculating for an eight-year life span, so essentially we get two years free," Druitt told The Guardian.
Zero-emissions electric buses to various regions across the UK by 2030
Brighton Energy Co-op's Chair, Will Cottrell, said this will be a challenging experience. "We have many exciting projects, but never before have we covered the roof of a bus depot in solar panels to power the buses that live there. This is a very exciting time for us and a project that puts Brighton & Hove at the forefront of renewable energy and transport in the UK," Cottrell told.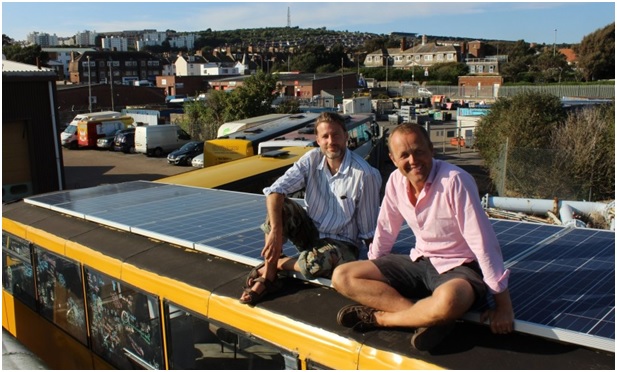 Will Cottrell of the Brighton Energy Cooperative (left) and Tom Druitt, managing director of The Big Lemon.
As good news never comes alone, the company has also been shortlisted for the M&S Energy Community Energy Fund. They can obtain up to £25,000 through a public vote and crowdfunding.
 Photographs: The Big Lemon