Solar Impulse landed Tuesday in Abu Dhabi, where the aircraft capable of flying day and night with solar energy only as fuel completed a tour of unprecedented world technological challenge.The plane landed safely at 4:05 (local time) at Al-Batten Airport near the capital of the United Arab Emirates, where he had gone on 9 March 2015 for a journey of more than 42 000 kilometers across four continents, done without a drop of fuel.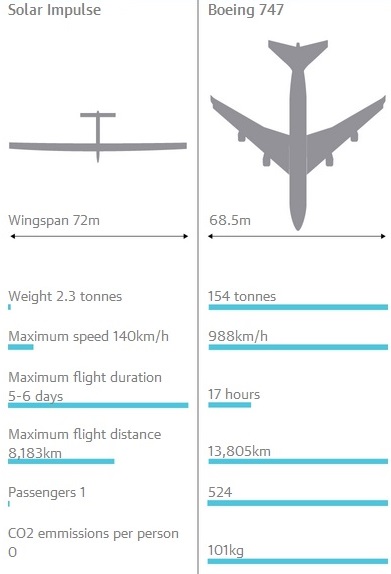 Led by the Swiss Bertrand Piccard, the plane has traveled 2763 km and more than 48 hours for the 17th and last stage of its journey, to promote renewable energy.
"The future is clean," commented Mr. Piccard, applauded and greeted on the tarmac. He was soon joined by his compatriot André Borschberg, with whom he relayed throughout the journey.
"It's so exciting" to fly on a plane that makes "no noise, no pollution," said Mr. Piccard to reporters.
"It is believed that this is science fiction, but in fact, this is the reality today," said the pilot, who showed no signs of fatigue.
The Secretary-General of the UN Ban Ki-Moon expressed his "profound admiration" for the experience. "This is a historic day, not only for you but humanity," Ki-Moon said in Mr. Piccard address while flying over the Gulf waters.
The future is clean
Weighing a ton and a half, but as large as a Boeing 747, the Solar Impulse flew at an average speed of 80 km / h thanks to batteries that store solar energy captured by some 17,000 solar cells on its wings .
"I started the project in 2003 @solarimpulse to convey the message that clean technologies can achieve the impossible," recalled Mr. Piccard in a tweet.
Save
Save
Save