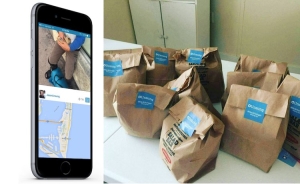 No one has to sleep hungry. Especially when across the world, there are enough resources to produce the necessary amount of food so that everyone can eat stomach full.Thus, five Americans gathered to create the Unsung application. It was recently launched to the food distribution between restaurants, needy and volunteers.
Since its launch, Unsung helped feed over a thousand homeless in the city of Austin, the capital of Texas. Indeed, 49 million people in the US live in hunger as the country is wasting food worth more than US $ 500 million each year.
To make the food sharing initiative realisable, Unsung, registered as a non-profit organization, has partnered with Arcade City, a decentralised carpool service.
The Unsung application is an online community that is also present on social networks where people can see good deeds in "real time."
This platform invites local grocery stores, restaurants, caterers or anyone with a surplus of food or large quantities of still usable leftover food to get rid of it through a donation instead of throwing it in the waste bin.
Every citizen may, accordingly, join Unsung and choose the network indicating that they have extra food. People who need food can also be known through the application. Volunteers can recover and make food available to the needy.
Rallied in a show of solidarity, the people on Unsung– or "everyday heroes", as the organisation described itself, already show great motivation to help those in need as more and more people are continuing to register.
People can see good deeds in real time
On Facebook, Unsung multiple pictures are displayed where citizens are heartily helping others, or volunteer drivers going for delivery, or food is being prepared.
Plans to spread the use of this application in other cities will follow shortly after the platform works to perfection. Very soon, the application will also be available for users of Android and iOS. Unsung added Bitcoin to the equation that allows the users to be rewarded with the Unsung community good works.
Save