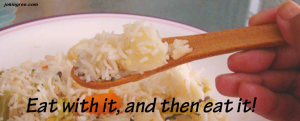 An Indian researcher in agriculture invents edible spoons that can be used to eat your food, and eaten up afterwards. Peesapaty Narayana has sold more than 1.5 million edible spoons in India. But his ambition goes well beyond his territory; he wants a massive production worldwide.Each year in India, 120 million plastic cutleries are thrown away along with all its chemicals. Disposable cutlery are made from petroleum and rarely reused or reusable. They often end in a basket without being recycled when it is not in nature. The solution: edible cutlery, of course!
These edible cutleries contain no preservatives or GMOs. They are totally vegan, kosher, organic and fabricated with cereal. Their constitution: flour millet seeds, rice and highly nutritious corn. Several flavors exist: sugar, ginger, cinnamon, ginger, garlic, celery, pepper, cumin, mint, and carrot-beet. All perfectly go along with any type of dishes or desserts. Objects are designed to last three years if kept in a closet and biodegradable in five days (in case you no longer hungry enough to eat them). Sufficiently resistant to heat, for example, it is quite possible to eat soup with it or drink a coffee.
In order to meet increasingly high demand and achieve his objective of expanding internationally, a crowdfunding campaign was launched on Kickstarter. This has been a huge success: even before the end of the campaign, which ends in less than a month, the project has already gathered more than 86,000 dollars in pledges (about 76,000 Euros) to $ 20 000 of initial objectives. If priority was, previously, given to spoon production, other types of cutlery and utensils will soon be available. According to Kickstarter, "our ambition is to extend ourselves beyond the realm of edible spoons. We currently have manufacturers to produce chopsticks and forks. Our plan is to expand to mugs, plates and various objects on the table. "
Bakeys, the manufacturer, created new jobs for nine poor women. They can produce up to 900 000 spoons per day for a good price. An internet contributor of $ 10 will receive 100 spoons.