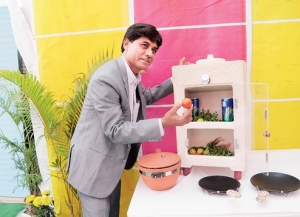 He is called the 'Harry Potter' of rural India. Mansukh Prajapati invented a clay refrigerator running without electricity and 100% recyclable. A boon for India where 500 million people are without electricity and / or cannot afford such a household appliance. He used his knowledge to create a successful company: Mitti Cool. It sells pottery but also various utensils such as pots, pans and kitchen sets. One of the items available is revolutionising India: the clay refrigerator.
According to Mansukh Prajapati, he got this idea after the earthquake hit Gujarat in 2001 (7.5 on the Richter scale). While contemplating the ruins of his old factory of traditional jars the idea of a refrigerator without electricity stroke his mind. He decided to use the raw materials he has always worked: clay.
In 2005, Mitti Cool Refrigerator is commercialised after the development of several prototypes. In India, the temperature sometimes reaches 50° depending on the region, and traditional refrigerator maintains a temperature of 15 to 20 degrees less than outside. Here the rule is the principle of evaporation: the evaporated water condenses and runs down the sides of the device in order to dissipate the heat. The "start" is simple since it is only filling a small fresh water tank.
There are various advantages to this invention according to Mr. Prajapati. The Mitti Cool Refrigerator is 100% recyclable (100% ecological) due to its composition, and allows food preservation (and taste) improved, especially in a country where over a third of the population has no electricity (or exposed to frequent power cuts), or who is unable to afford a conventional refrigerator. The waste is more limited and the ease of working with clay makes possible the development of several sizes available for purchase. It is an initiative that is not threatened by planned obsolescence, since there is no maintenance or repairs to be made, making it very interesting and useful for the population.