Of the world's 20 most polluted cities, 13 are found in India, and over 600,000 Indians die as a result of air pollution every year. Along with this, air pollution caused by vehicles is a big issue. The Indian auto industry is one of the largest in the world. Many initiatives have been planned to curb it. But the most effective one these days seem to be the use of a cost-effective fuel made from local sewage or waste known as Biogas.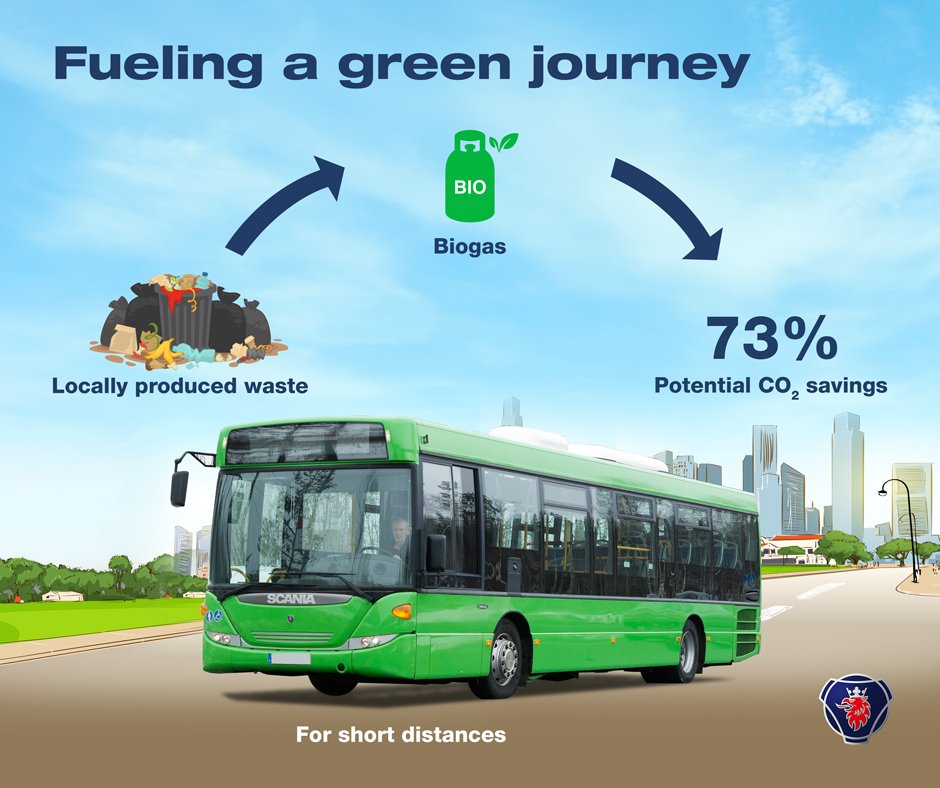 The solution has been brought by Scania, a major Swedish automotive industry manufacturer of commercial vehicles – specifically heavy trucks and buses. The Director Presales and Marketing at Scania India explained that his company possesses the products and services needed to reduce India's enormous environmental problems. "We can transport people efficiently and with minimal environmental impact in buses that can be run on ethanol and biogas. At the same time, we can create jobs thanks to the fact that these biofuels are produced from waste and residual products," told Krister Thulin.
The message and solution from Scania is "local waste to local fuel for local transport". According to Krister Thulin, "in this way the production of vehicle fuel doesn't compete with food production, but instead waste and wastewater or residue from sugar production is converted to fuel."
This will bring another solution for stopping the burning of waste or dumping of waste and untreated wastewater into the natural environment, as is the case today in India.
If at the national level, such initiatives are welcomed; the states are conscious of the problem too and are finding solutions. The government has thus approved the use of bioethanol and biogas as fuel in India. A pilot plant for 100 biofuel buses in Nagpur, Maharashtra will help show the way ahead.
In this Indian state, especially in major cities such as Pune and Mumbai, pollution from vehicles has been increasing rapidly. The state government is taking the lead in launching a pilot project blending ethanol in public transport with the first vehicles to be 200 new buses that will be specifically for women passengers. The announcement was made by Maharashtra chief minister Devendra Fadnavis on Wednesday 16 November 2016, terming the move as one of the measures for promoting ethanol. Ethyl alcohol or ethanol can either be produced by direct fermentation of sugarcane juice or from molasses – a by-product of the sugar manufacturing process.
Blending ethanol in public transport
The road transport department in Maharashtra, from the next year, is likely to keep digital tabs on the Pollution Under Control (PUC) checks vehicles. According to Transport Commissioner Praveen Gedam, a discussion took place on the subject in order to curb air pollution. "The road transport department of the state will soon undertake mass digitisation of documents. The web-enabled platform will provide us a list of car owners who need to renew their PUCs". "One of the benefits of this move would mean sending SMS alerts to car owners about the expiry of their vehicle's PUC. Since we will have digital records, we will be able to send several warnings and advisories to vehicle owners," said an official
In the capital Delhi, the government runs all its buses on Compressed Natural Gas. CNG is methane stored at high pressure and can be used in place of gasoline (petrol), Diesel fuel and propane/LPG. CNG combustion produces fewer undesirable gases. Buses as well as autorickshaws switched to the cleaner fuel after it was made mandatory in 2001. However, a large number of buses plying in the city are still fuelled by diesel. The spike in the number of private diesel vehicles has also had a substantial impact on the vehicular pollution. The government is now hitting at them to adopt cleaner sources of fuel.
On the other hand, the Indian government has teamed up with Scania on its "electric highway" program launched at the pilot level in Sweden with an eye on using biofuel hybrid trucks to improve the carbon footprint of India's notoriously polluting long-distance trucking transportation system.