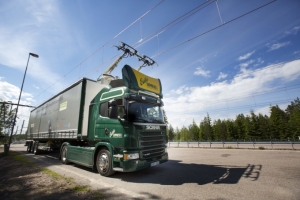 The Swedish manufacturer Scania has officially announced the opening of the first electric highway in the world. The project currently involves a two kilometers' portion of the highway and is reserved for company vehicles.The dependence on fossil fuels is a central issue in the development of new modes of transport. With this in mind, many manufacturers like Tesla design electric vehicles. The question of the autonomy of the cars is raised. Sweden tries to provide an answer to this question by bringing electricity on the highway, as is done for trams in the city.
Scania, a Scandinavian manufacturer of truck and coach, officially opened the first electric highway in the world near the city of Gävle in eastern Sweden. The announcement, as such, is inherently exciting and promising. Nevertheless, the portion of the concerned highway does not exceed two kilometers; only the company's trucks can use the device in place.
Indeed, Scania has developed hybrid vehicles equipped with pantographs – rods articulated on the roof as can be seen on trains – and can connect to the rolling cables installed above the right track of the road, reserved for heavyweight. Testing, in current actual traffic conditions, is underway.
Conducted in collaboration with the Swedish Government, the project is in the country's willingness to purchase a fleet of efficient vehicles and fossil fuel free by 2030. According to Nils-Gunnar Vågstedt, responsible for vehicle electrification in Scania, "the potential from fuel savings with electrification are considerable and this technology can become a cornerstone in the development of transport services without fossil fuels."
The tests will continue until 2018. The goal for the project leaders is to analyze how to optimize the technology and think about its widespread deployment. For now, if the operation is still modest, we can still be optimistic and hope that this kind of initiative multiplies. Before having a road where the coating powers the vehicles!