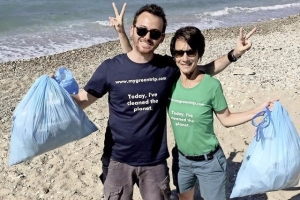 Can we let the planet turn slowly into a dumping ground? No! Elisabeth Tricot and Nicolas Gluzman proclaimed. These citizens from Lausanne in Switzerland have decided it is time to take action. (Article from 24 Heures, on 24 July 2016)
The couple was shocked last year to see a resort in Malaysia littered with tires and rubbish. Later in the natural park of Penang, they saw monkeys playing with plastic bottles. "There was a click as we took the bags and picked up the waste which we then handed over to park officials," said Elisabeth Tricot. "They were very thankful to what we did."
On his return, the couple is working on a concept he calls My Green Trip. "The idea is that everyone can make a move, whether in Ouchy, in the Alps or in the Pacific Ocean. All these added gestures will make a real difference in the end," says Elisabeth Tricot with his lilting accent of the South. Very sensitive to environmental issues, this native of Toulouse currently leads the Salamander festival.
Reduce its "carbon footprint"
My Green Trip recently invites project participants to take pictures in action and then post the picture on social networks. The dedicated hashtag is #SummerCleanUpChallenge. "The idea is that the photos are fun or funny because the movement wants 100% positive." We do not want to expose polluters or leaders who do not do their work: this is not the spirit of the movement. "It is useless to communicate what's wrong, it's better to focus on what each can do on its scale." For tourists traveling to the other side of the planet, this method seems to be a good way to reduce its "carbon footprint".
Eventually, the couple imagines developing the concept in order to finance projects of cleaning and waste collection in countries where there is no local initiatives.