Adidas reveals its Parley swimming collection designed with Parley Ocean Plastic. This collaboration has already given rise to soccer jerseys and the first shoes created from marine plastic waste, with the support of Sea Shepherd.
The Parley SS17 swimming collection was recently presented by Adidas with two major designs: a vague print that refers to the origin of these swimwear and graphics inspired and realized by the Parley teams.
The outfit is made from plastic found in the oceans and used fishing nets, processed in fibre techniques.
This new collaboration between Adidas and Parley continues to write the story between the two sides, a story initiated by the creation of the home jerseys of Real Madrid and Bayern Munich, made of 100 percent material from marine debris.
In an interview with Swimming World magazine, Tim Janaway, General Manager of Adidas Heartbeat Sports (the division within Adidas that manages swimming products), spoke on this new collaboration between Parley and Adidas: "It was a "Project passion" for every person involved, from the first idea, until we witnessed the transformation of marine debris into usable textile for a performance product."
It represents our dedication to consistently providing swimming products that protect the waters in which we operate – Tim Janaway
"Designed with this "ocean-for-ocean" philosophy, the Parley Swimming Collection represents our dedication to consistently providing swimming products that protect the waters in which we operate. As one of the leading brands in the world, it is our responsibility to be the guardians of our sports and this collection is a testimony to the role we can – and must – all play to safeguard the oceans for future generations."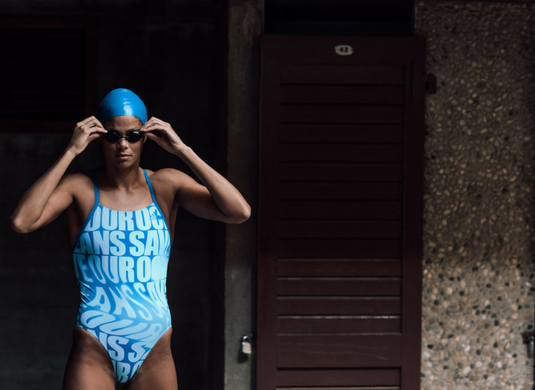 Adidas has been one of the leading brands to reduce the environmental impact of its products by developing and using sustainable materials in its products be it shoes, clothing and swimming products. To date, 50 percent of all swimming textile comes from recycled material and 76 percent of the swim collection incorporates recycled polyamide.
As part of this eco-innovation mission alongside Parley, Adidas is committed to creating at least one million pairs of oceans recycled plastic footwear by the end of 2017.
To highlight this collaboration, Adidas has produced a film highlighting a renown swimming ambassador, French Coralie Balmy, bronze medallist on the 4 × 200 meters freestyle relay at the London 2012 Olympic Games and European champion in 2012 of the 400 meters freestyle in Debrecen in Hungary.