Fans of nature you intend to go on vacation but you are tired of the classic hotels. Why not book a Treehotel designed by seven Scandinavian architects and run by Kent Lindvall and his wife Britta in Sweden.
It offers high-end accommodation in a harmonious place where there is no ordinary stress of everyday life
The Treehotel offers themed accommodation for tourists who venture north of the Arctic Circle in search of the Northern Lights. The seven suites are arranged through a wooden section in Harads, with drawings by architects including Tham + Videgård Arkitekter and Rintala Eggertsson Architects.
It was in 2010 that the Lindvall's were inspired by Jonas Selberg Augustsen's film, The Tree Lover, a tale of three city dwellers who together build a house in the forest.
"The idea behind Treehotel is to offer high-end accommodation in a harmonious place where there is no ordinary stress of everyday life," said Kent Lindvall, at the launch of the seventh room Snøhetta, a mirror cube and the hut made of charred wood.
You surely remember the mythical Bird's Nest stadium for the Beijing Olympics. This week we will show you the Bird's Nest; one of the most popular rooms. Built by architect Bertil Harström, the Bird's Nest is located in Harads, near the Lule River in Sweden.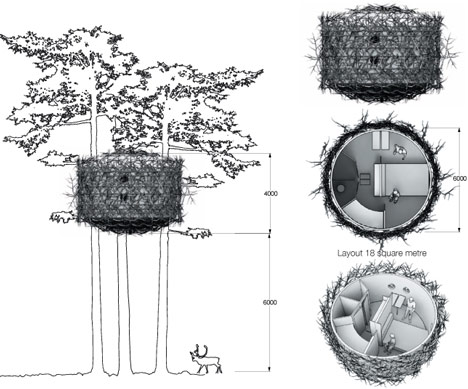 "From the bird's nest, we have a fantastic view of the Lule River Valley, kilometers of forest and the mighty river," says Kent Lindvall.
The Bird's Nest is a concept based on the contrast between exterior and interior. From the outside it appears as a large nest, supported by existing trees and the outside is covered with twigs, only the ladder separating it from the other nests in the vicinity. The small round and discrete windows are almost hidden by the network of branches.
Inside, this is a high-end room with a modern design, covered with wood panels everywhere. A body panel decorates the inside wall. There is space and beds for a family with two children (one double bed and two single beds). They are separated bedroom with sliding doors. You reach the nest by a retractable staircase.
It squeezes a lot into the 18 square meters (about 180 square feet), much smaller than your standard hotel room. At 20 feet from the ground, the retractable staircase must be fun. Like a child in his little cabin.