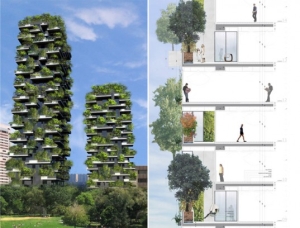 Growing beeches, oaks, olive trees, apples, cherries and Turkish hazelnuts on buildings: this is the successful bet of Italian architect Stefano Boeri. The development of such Bosco verticale (Vertical Forest) creates a network of environmental corridors and increases greenspaces in the city of Milan.
In 2030, 70% of the world population will be urban. To limit the concentration of greenhouse gases and particles in spaces with very high human concentration, a simple but effective solution is gaining momentum: greening. According to the Association for the Prevention of Air Pollution (APPA), plants contribute to "mitigate the temperatures, trapping air pollutants and improve the health of the population."
Vertical Forest is a model for a sustainable residential building, a development for metropolitan reforestation that contributes to the renewal of the environment and urban biodiversity without the need of expanding the city upon the territory. It is a reproduction of vertical densification of nature within the town that operates in relation to policies for reforestation and naturalisation of large city borders.
This is a residential project in the Garibaldi Repubblica area of Milan, Italy. It is the world's first development of its kind, and includes two residential towers, of 80 and 112 meters respectively, housing trees in their balconies. Their hundreds of balconies shelter 900 trees. The equivalent of one hectare of forest! This allows the capture of greenhouse gases, but also improves the quality of the air for residents of these two towers. Among the selected species, some have the peculiarity to capture micro-dust in the atmosphere, absorbs CO2 and produces oxygen.
The cost of construction of the project is €65m, just 5% more than a traditional skyscraper. The project was part of the BioMilano idea proposed by Boeri Studio. BioMilano includes six ideas aimed at increasing the number of green spaces in Milan. It includes the creation of a vertical forest, the wood house project, and Metrobosco. It also consists of conversion of some 60 deserted farms and rehabilitation of ancient industrial areas into green spaces.
Vertical Forests was awarded the prestigious International Highrise Award and was also selected by the Council on Tall Buildings and Urban Habitat (CTBUH) Awards Jury as the overall "2015 Best Tall Building Worldwide".