The founders of Argilus are persuaded that they invented the "concrete of tomorrow". When current concrete requires the use of expensive marine sands, their High Performance Alkaline Activation (HP2A) technology makes it possible to produce concrete from desert sands or from deconstruction of buildings. Above all, this technology would significantly reduce the carbon footprint associated with cement manufacturing. The first stone of the new production site was laid in the region of Vendée in France. Argilus, based in Chaillée-sous-les-Ormeaux, has as objective to market the first products at the beginning of 2018.
While in general the construction industry is evolving with its time and is doing everything possible to design ever greener materials, cement manufacturers are a little behind when it comes to ecology. The start-up, located 15 kilometers from La Roche-sur-Yon, Argilus, specializing in eco-materials, is changing the situation by offering an alternative to Portland cement, which provides gray cement. The HP2A binder makes it possible to produce cement without cooking or sea sands from low-polluting raw materials and whose performance is equivalent to its classical competitor. A little revolution that has not finished making noise …
A product with a reduced carbon footprint
Patented in spring 2015, HP2A technology is the result of two specialists, Julien Blanchard and David Hoffmann, partnered in an innovative project to create a low carbon construction material. Held secretly by these two friends, its composition remains a mystery. We just learn that this product is made of transformed clay to which raw materials are added. It is then sufficient, for the manufacture of concrete, to mix this binder with water, vegetable materials such as hemp or building aggregates and non-noble sand, that is to say which is not derived rivers and beaches, but rocks or desert.
Unlike gray cement, HP2A technology uses the alkalization of the material and not recrystallisation. A chemical jargon which means that stone is recreated from clay with a natural molecular reaction that does not require any petrochemical products. Moreover, unlike Portland cement, this clay does not need to be baked and is therefore without combustion, which makes it possible to realise valuable savings in the manufacturing process.
In practice, the performance of this product is equivalent to that of gray cement as explained by Julien Blanchard: "the cement produced with the binder HP2A is resistant to water and fire, and it can be recycled".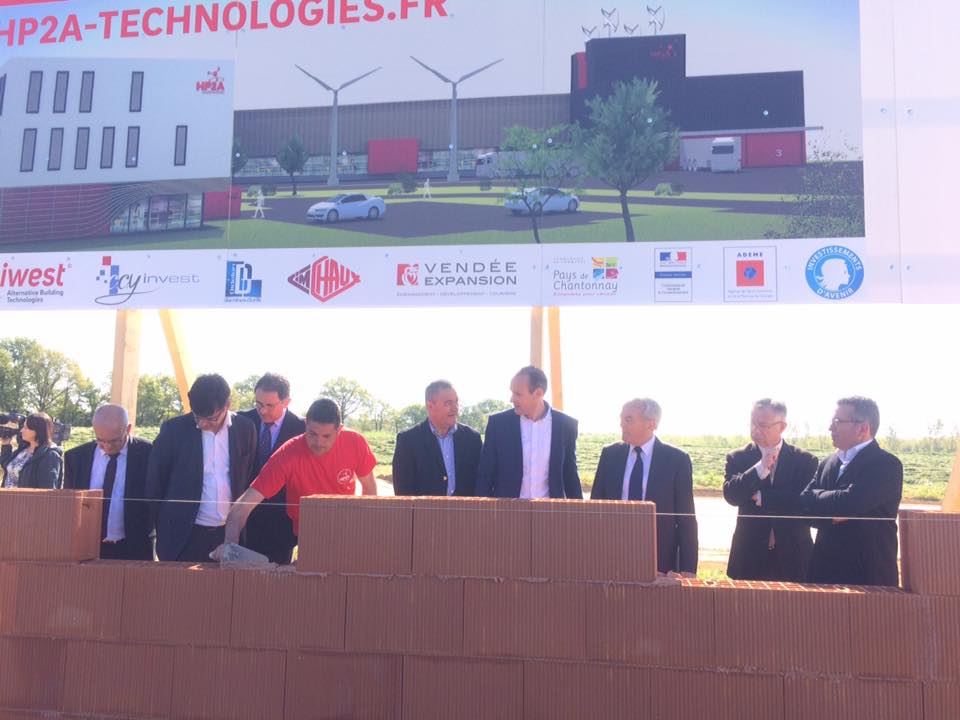 The HP2A technology is therefore a real alternative to Portland cement, which is extremely polluting and causes acid rain and greenhouse gases. Indeed, used in 80% of the construction, which alone generates 20% of the CO2, the gray cement rejects 900 kg of CO2 for the production of a single ton. Knowing that it consumes 4 billion in the world each year, the ecological cost is quickly calculated … Moreover, gray cement is also responsible for the disappearance of 90% of the beaches across the planet.
In contrast, the HP2A binder is much less harmful to the environment. "A ton of HP2A binder is equivalent to 230 kg of CO2 and is therefore five to seven times less polluting than conventional cement. The use of non-noble sands also allows the Gulf countries to no longer plunder beaches and river areas, but to use their own resources, "says Blanchard. In manufacturing, the cement produced with the HP2A binder has the same or even lower cost as Portland cement, depending on the application.
Not yet on the market, the HP2A binder should see its first products come out early 2018. They will be offered to manufacturers first, then to individuals. Meanwhile, the start-up should open a pilot plant by February next year in La Roche-sur-Yon. Supported by Total, Michelin and Airbus, Small and Medium Enterprises (SMEs) deliberately surround themselves with mastodons that are not part of the construction sector in order to "move forward more freely without a straitjacket", as Argilus co-founder wishes. Indeed, the main objective of the company is to offer its binder for the use of mortars, glues and binders for ready-mixed concrete. But, in the long term, the start-up has the ambition to invest "other areas of activity", without necessarily saying more for the time being.