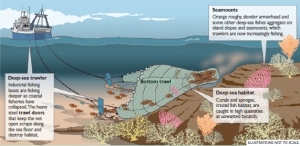 Underwater fauna and flora can now breathe. European institutions have finally decided to ban trawling in depths of over 800 meters. This decision is the result of intense negotiations that lasted four years. It thus open the way to recovery in European waters.This prohibition is intended to protect Europe's richest and most threatened ecosystem – the deep sea. It is supposed to come into effect as from January 2017. In parallel, the new regulation also introduces a legally binding ban on fishing in areas containing vulnerable ecosystems.
Non-governmental organizations (NGOs) such as Bloom, also claimed victory. This decision is largely due to the efforts of NGOs mobilized in protecting the ocean who spent eight years in campaigning to protect marine ecosystems and prohibit trawling. Indeed, heavy swept up nets on the ocean floor are destroying fragile ecosystems, including corals – which are among the oldest creatures on our planet.
Trawling is a method of fishing that involves pulling a fishing net through the water behind one or more boats. It is a method used to catch shrimp or cod. Being non-selective, it damages marine ecosystems by entering at random each life it encounters. Subsequently, many creatures end up trapped in the nets by mistake, then thrown dead or dying, including endangered fish.
Prohibition will benefit the fishing industry
Lasse Gustavsson, Executive Director of Oceana in Europe believes that the ban on trawling in an area of 4.9 million km2 is "larger than Europe itself" and "will certainly set an important precedent in the protection of the sea."
In the long run, this prohibition will benefit the fishing industry which depends on the reproductive capacity and the rate of growth of marine species. Environmental groups hope that this decision will push other countries around the world to follow the example.
Trawling is banned at depths of over 1,000 meters in the Mediterranean. New Zealand, meanwhile, already banned trawling in deep waters for many years.