Skiing is definitely a fun activity but it also has a considerable impact on the environment including global warming. Some people like Stéphane Lagarde became aware of this state of affairs and launched Ecorider, the first school of skiing and snowboarding that fights global warming in the Chamonix Valley at Mont Blanc.
Skiing known as a "nature sport", however, has a strong negative impact on the environment. On the one hand, due to the facilities required for its practice and, on the other hand, to the high number of visitors it attracts. Lift networks, track trails, mass tourism accommodations have all affected mountain landscapes and their ecosystems. The presence of aerial cables (dangerous to birds), for example, or clearing operations affecting the habitat of certain species, have an impact on the animal populations that can be perceived up to a distance of at least 1.5 km. A regrettable snowball effect.
"I wanted to make ski more virtuous" – Stéphane Lagarde.
Moreover the use of artificial snow is a big waste of water and energy. Almost 95 billion litres of water are needed to cover the 23,800 hectares of Alpine ski slopes. Large volumes are taken from lakes and rivers, thus affecting aquatic life. On this point, the weather forecasts do not bode well with a multiplication of winters without snow as a logical consequence … of global warming.
And to add insult to injury, transport generated by a high concentration of population is responsible for more than half of the carbon emissions related to winter sports.
Faced with these environmental problems, initiatives to promote sustainable development are increasing. Snowcarbon.com is trying to encourage snowboarders to prefer the train to the car or plane.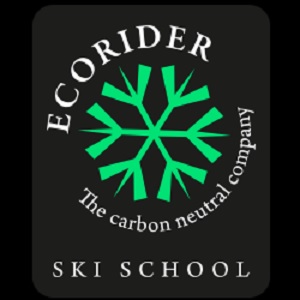 But the decision of Ecorider is to be welcomed in more ways than one. Chamonix is a French town located at the foot of the Mont Blanc, the highest mountain in Europe. At Ecorider, ski and mountain professionals display an exemplary environmental approach and fight against global warming with targeted actions.
Framed by passionate instructors, during the winter of 2008-2009, Stéphane Lagarde undertook to realise the carbon footprint of his activity as a ski instructor and found that in four months, he, alone, emitted 32 tons of CO2, more than three times the emission of a French compatriot. Since then, he has been working to reduce his school's carbon footprint.
Ecorider monitors are dressed in Rip Curl outfits made from recycled materials and equipped with skis made at the Dynastar factory in Sallanches (Haute-Savoie), to promote short circuits. The wax, also Rhône-Alpes, is designed without a petrochemical product. Emissions of incompressible greenhouse gases, generated in particular by the transport of its monitors and their customers: Ecorider compensates them by participating in reforestation actions in the Peruvian Amazon. "I wanted to make ski more virtuous," says Stéphane Lagarde.
Chamonix received the "Flocon Vert" – the green snowflake – a sustainability label awarded by Mountain Riders, a French-based group that campaigns for a more sustainable winter sports industry. The four other resorts of Flocon Vert are Villars in Switzerland, Châtel in Haute-Savoie, Pierre Saint Martin in the Pyrénées-Atlantiques department and Les Rousses in the Haut Jura nature park.