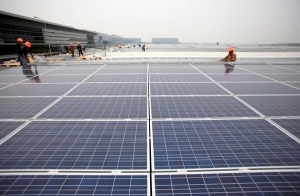 A growing number of major companies, including Google and Mars, are turning to renewable energy. This not only helps the planet but also the finances.In 2012, the Swedish group IKEA home equipment has made the headlines with its commitment to fully supply its stores with renewable energies by 2020. Recently, the US multinational Hewlett-Packard (HP) made the same promise, promising to switch completely to renewable energy by 2020. The fact that IKEA and HP have set the same deadline for renewable energy, despite the fact that their commitments were separated by four years, shows an amazing change in the production of renewable energy. When IKEA made his promise, he was trying to install its own power generation facilities. Four years later, HP has many other options.
Many companies follow the steps on renewable energy. As part of its commitment, HP has signed the RE100 campaign, joining other companies like Google, Starbucks, Novo Nordisk and Goldman Sachs. RE100 was launched less than two years ago by a coalition of businesses and non-profit organizations. Participating companies have, on average, already made the transition to half their energy consumption to renewable energy, according to a report last month. Several companies have already reached their target.
For companies looking to accelerate their adoption of renewable energy, this is a pivotal moment. The steady decline in prices of renewable energy – the solar alone plunged more than 50% since 2008 – means that renewable energy is an obvious and common approach to corporate sustainability. Several companies have noted the financial benefits. Thus, relying on renewable sources means they can worry less and less about the volatility of market prices of fossil fuels – an effect they say will only grow as the renewable sector attains maturity.
 "We see this as the little secret of sustainable business," said Kevin Rabinovitch, global director of sustainable development at Mars, Inc. "Preserving the climate can also save you money."
In many ways, however, legislators, regulators and utilities have not caught the appetite of companies for sustainable power. Despite the improvement in prices, local rules and limits of supply mean that you cannot easily buy renewable energy at the same cost as conventional power in all geographic areas, according to a sustainability report by non-profit enterprise Ceres. In addition, some countries and U.S. states have been inconsistent in their support for renewable energy, which makes the less predictable bottom line.
Companies participating in RE100 provide an overview of how companies can help push renewable energy ecosystem and at the same time become themselves 100%, either by purchasing renewable energy credits (RECs), buying clean energy directly from producers or generate on-site renewable energy. The RECs allows a company to substantially offset the use of conventional energy by ensuring an equivalent amount of renewable source of energy to be also generated.