You will not say that you are on the roof of a building. On the top of the Clinique Pasteur in Toulouse, we are surrounded by strawberries, salads and flowers. "The vegetable garden at the service of the enterprise." That's the idea that germinated with Macadam Gardens. Since then, the designers are having their heads in the clouds and grow vegetables on rooftops in France.
Entrenched in Toulouse, Macadam Gardens is a small organic farm. Its creators Cédric Jules and Alex Belin want to "bring up to date the forgotten varieties of vegetables, full of flavor and taste! "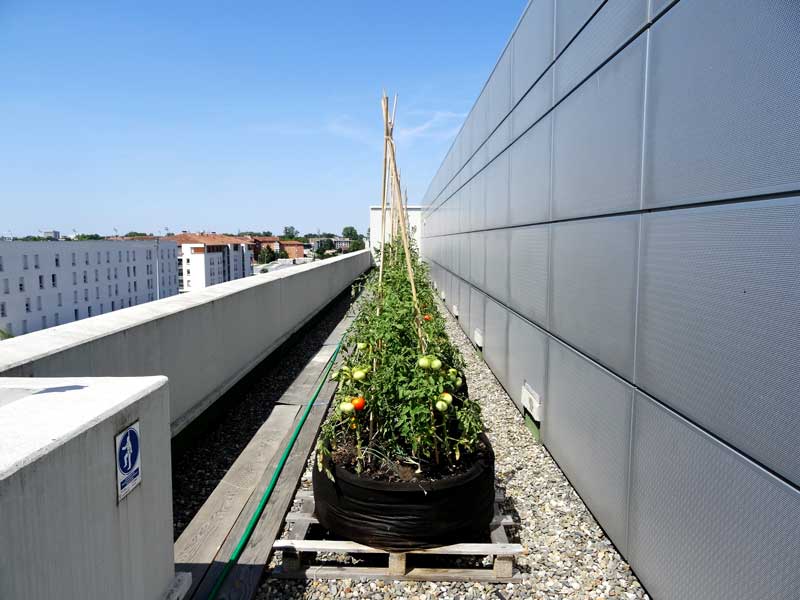 But why Macadam Gardens? Alex Belin explains that during his studies at the School of Agronomy of Lyon, Isara, he wanted to grow vegetables in town, on rooftops because it did not exist in France. Thus, the engineer in agronomy decided with his friend, to get their hands on the dough. Initially they wanted to start an urban farm. But that did not suit them. "Aware of the new social and environmental challenges of our world, we chose to share our passion for gardening and urban agriculture through the installation of vegetable gardening in business and entertainment."
Rapidly, they took appointment with companies committed to sustainable development with the concept of Corporate Social Responsibility (CSR). This is how they met officials of the Clinique Pasteur in Toulouse, which informed them that cooks of the clinic just wanted to have a vegetable garden on the roof. "It was a real technical challenge to create this garden of 500 m2. In twenty days, we installed four tons of earth uploaded from the bottom of the building to the roof of the clinic. "
150 geotextiles pots have been installed and were filled with lightweight potting soil. They are divided into four irrigation zones. Thus we find tomatoes, eggplants, peppers, green beans, herbs and edible flowers like nasturtiums, cosmos, and edible chrysanthemums.
This is a garden that has turned into a social cohesion tool.
In addition to food self-sufficiency, (note: the kitchen garden produced a harvest that allowed the staff canteen to make a few meals from 100% of garden produce) the clinic staff launched a gardening club. So every Friday at noon, twenty employees come to have lunch on the roof, while gardening. This is a garden that has turned into a social cohesion tool.
But the Pasteur Clinic does not want to stop there. It intends also to use this garden for dedicated palliative care to patients in oncology. According to Cédric Jules, patients want to forget illness. They want a gay, colourful place with lots of diversity. I think the herbs are also interesting for the scents. "Patients may well taste some strawberries", we are told.
Macadam Gardens, with the assistance of an ecologist, now wants to research the environmental impact of this garden in height.