This is a project of shared and sustainable management of agricultural and natural areas on the outskirts of urban centres. Launched in 1999, the Songhai Centre Atagara – Parakou in Benin is a success story. Discovery.
Parakou is the third largest city in Benin and capital of the Borgou Department and a transition zone to the Sahel. The site of Songhai Atagara is a school farm, located 8 km east of the city. The site covers an area of 300 ha stretch of which 41 ha are occupied by a lake, built for agricultural activities (rice) and fish farming.
Songhai is a non-governmental organisation (NGO) and a Beninese institution, located mainly in Porto-Novo. They possess five centres in the country used as experimental farms, research centres and training in sustainable agriculture.
Borgou is very representative of the climate of northern Benin, which fundamentally differs from Porto-Novo. People's lives, eating habits and cultivation techniques have something special compared to other regions of Benin. The use of animal traction is widespread in the department, which allow farmers to sow large areas. The Atagara site chosen by Songhai has significant water resources, favourable for crop and fish production on a large scale. The operation of this centre enables young people from the northern area to stay in touch with the realities of their environment.
Boys and girls learn the basic of a sustainable integrated agriculture and farming
Since 1999, each semester, the Songhai centre in Borgou welcomes, like other Songhai training centres, young men and young women for agricultural training for a period of 18 months. The centre has 17 permanent workers and 160 students' farmers including 22 girls for the June 2016 recruitment. The Training Department of Songhai Centre registered 201 applications for this 57th batch.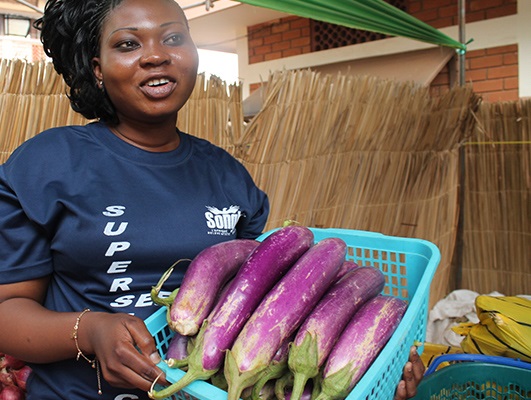 These boys and girls learn the basic of a sustainable integrated agriculture and farming. They get training in crop production (yam, maize, sorghum, groundnuts, soya), animal rearing (cattle, sheep, pig, rabbit, turkey, chicken…), and fish farming: with floating cages (5 m3) for various species (tilapia, catfish, catfish, carp …).
They also work in food processing, fruit drying, fruit juice manufacturing and various syrups without chemical additives. The food produced is for their daily consumption and for the local market too.
At the Songhai centre there is also a mechanical workshop for servicing and repair of vehicles and agricultural farm tools. The centre has recently laid lot of emphasis on renewable energy (biogas, solar, wind and plastic waste conversion). There is also an office where they can connect themselves to the internet. They want to develop some ecotourism on their website.
The Songhai centre is being taken as an example not only by the Economic Community of West African States (ECOWAS) but even in France where Gregory Courtas (Mayor of Pussay) and Anne Thibault (Mayor of Arville) visited the centre in April this year.