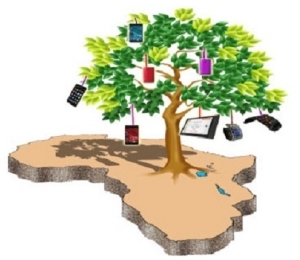 Fight against climate change, waste recycling, access to clean and sustainable energy, protecting the environment … What innovative solutions can technology bring to entrepreneurs in Africa to try to stem the climate change and come to the rescue of the planet? (Extract from Samir Abdelkrim Blog, Startupbrics.com)
In Africa, startups innovate to protect the environment and indirectly creating thousands of jobs. Without delay, several African startups are taking the lead and offering sustainable solutions today – often based on very robust "business models" – for example, to remove the tons of household waste that plague the streets of Lagos, Nigeria . When he is not to provide green electricity in remote rural areas in Ivory Coast, in particular to boost economic activities and create jobs. Meet two green startups "Made in Africa".
Wecyclers in Nigeria
Lagos, the largest city of Nigeria, has a population of about 21 million people. Consequence of this rapid urbanization, the volume of waste produced annually explodes. An example: located near the Lagos International Airport, the open sky giant discharge Olusosun receives 10,000 tons of trash daily! Seriously disrupted and rendered ineffective by decades of slow corruption, public services arms remain grounded facing the mountains of garbage piling up in the streets of downtown. Founded by the Nigerian social entrepreneur Bilikiss Adebiyi, environmental startup Wecyclers decided to establish in 2012 a true recycling ecosystem still inexistent Nigeria. She started form scratch to use the jargon of startupeurs.
Each day, the twenty tricycles driven by "Wecyclers" explore the streets of Lagos to recover, against remuneration, hundreds of kilos of household waste. A points system was established to encourage Nigerians to recycle their waste by entrusting them to the garbage cycling collectors of Wecyclers. Already 6,500 Nigerian households have subscribed to the collection service provided by the fleet of Bilikiss Adebiyi, who employs 75 people. Confident, the young CEO plans to recruit around 100 employees by the end of the year. Since launching Wecyclers, nearly 600 tons of waste were removed from the streets of Lagos to be sold to processing plants in Nigeria.
Energy Station in Ivory Coast
Based in Abidjan, Ivory Coast, the young entrepreneur Alexandre Castel feeds African villages with green energy. But the CEO of Energy Station, the name of its startup, sees its first product as a tool for economic inclusion. "We want to ensure access to solar power and basic services to remote African areas, especially in the countryside, drawing on both the model of gasoline stations and African groceries ". Access to energy is indeed the missing link of the African economic development In Sub-Saharan Africa; only 30% of people have access to electricity.
With Energy Station, Alexandre Castel is now promoting solar electricity in the form of multi-service shops, "we sell to the rural population photovoltaic panels providing shared services: battery rental for access to lighting, renting cold storage space, sale of ice and fresh produce, internet access, sales of energy-saving equipment, etc… ". Since its launch, Energy Station provides solar kits to isolated villages of Côte d'Ivoire, Senegal, Burkina Faso and Comoros. Urban centers are not forgotten as Energy Station has launched a solar store in Abidjan, in the popular district of Treichville.