At least one appliance using solar or wind power per home. This is the goal set by an Indian businessman. Not only for its business to flourish, but also so that India can breathe better.
In India, many rural areas are still experiencing problems related to lack of electricity. Thus in 2009 Rajendra Babulal Malu decided to bring renewable and non-polluting energies to homes and businesses in India and its surroundings. At the time, this energy that is transformed into electricity without noise, smoke-free and pollution-free seduces, hence its increased use day by day. "We started with the vision to keep pace with technical progress and the rapid growth of the renewable energy industry," says Malu.
This type of solution makes it possible to save both on energy and costs.
It should also be pointed out that the traditional lighting system consumes more electricity than LED lights. This of course results in higher electricity bills. LED lights, eco-friendly and sustainable are also easy to install and use. LED lights are energy efficient and maintenance-free, which reduces the cost of the lighting system.
The best alternative – which proves to be more affordable, is the use of solar energy and LED lights simultaneously. This type of solution makes it possible to save both on energy and costs. Renewgreen Energy provides the Smart Power Home Lighting Solution. This system includes solar panel, charge regulator for solar battery, LED bulb, wiring and other suitable hardware.
The Smart Power Home Lighting Solution has several advantages. Besides that the LED bulb is of low consumption and long duration, it allows more autonomy thanks to its charging batteries. Available in different configurations with stylish and efficient luminaries, the battery is protected against inversion of polarities. This lighting system also offers a light angle of 120 degrees.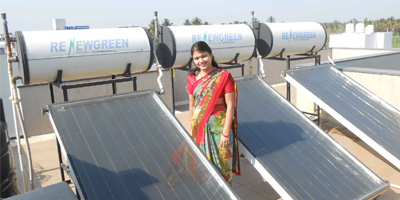 After a modest start, Renewgreen Energy began manufacturing a full range of photovoltaic products such as fluorescent lamps and solar lamps for home or garden, solar torch, bedside solar lamp or hybrid lamp Sun and wind
Rajendra Babulal Malu is pleased to see that people are increasingly aware of the need to focus on green energy instead of continuously focusing on non-renewable sources. "Solar energy is the largest source of renewable energy that is used in the world to produce electricity without pollution. We dream of reaching people in such a way that there will be at least one device using solar or wind power in every house," he concludes.