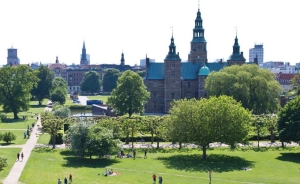 Copenhagen is collecting trophies in the field of sustainable development and renewable energy. The Danish capital aims at being the first city in the world to be carbon neutral by 2025.Green capital of Europe in 2014, Copenhagen is already a champion for the emphasis laid on wind and biking. But the challenge is great for reducing CO2 emissions. These should rise from 1.9 million tons in 2015 to 1.16 million tons in 2025. Currently, the main sources of emissions are electricity (48%), heating (24%) and transport (24%). A drastic plan was adopted.
The Danish capital has so far reduced by 35% its emissions since 2005 to 50% per head, including population growth (10,000 new residents per year). Huge investment will accelerate the project. "We must find a formula to remove the last 300 000 tons of CO2," says Jorgen Abildgaard, director of the climate project at the local authority.
Architect Anders Rohl is of opinion the "we must move slowly but surely to make our dream become reality. Otherwise, the objectives will not be met. "As we inaugurate a new cycle track, thousands of cyclists use it", Morten Kabell, assistant to the environment says. "In Copenhagen, it is not the councillors who engage the population. The people drive us. "Currently, nearly 40% of people are out on their bikes daily, for personal or business travel. The goal is to reach 75% of trips on foot, bicycle or by public transport in 2025.
This change in mindset has resolutely taken a new dimension with the election of the former European Commissioner for the Environment Ritt Bjerregaard at the head of the Danish capital in 2005. She had campaigned openly on a green project for the city. Four years later, the first climate plan was adopted at the end of the Fifteenth International Conference on climate. In 2010, a 60-projects list is established. Among the biggest investments: the transformation of cogeneration plants, which consume more than biomass by 2020; building for € 740 million of 100 wind turbines with a capacity of 360 MW; the expansion of the subway, € 5 billion. The private sector will invest € 85 million of the € 360 million that the city will disburse in the construction of new buildings including the renovation of existing housing or development of the transport system.
The deputy mayor, Morten Kabell, only emphasizes that a green capital requires continuous efforts. "We must see sustainable development in all aspects of municipal actions. Everyone must participate in reducing CO2 emissions. After the economic crisis of 2008, Copenhagen would have sunk into recession without our efforts to be carbon neutral. The green economy helps in reducing unemployment rate as 28 000 to 35 000 jobs will be created by 2025.