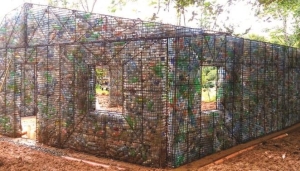 This is the first eco-village in the world built from over a million plastic bottles. They build 120 houses and call it Plastic Bottle Village.The founder of this Plastic Bottle Village is Canadian Robert Bezeau. He had a dream which he summarizes with the phrase: "Changing the world without changing the land, a house at a time." With this project, he wants to contribute to the preservation of a beautiful environment on Colon Island in the Caribbean Sea. To build these houses, he retrieves plastic bottles and other materials from local landfills. The first house has more than 10,000 recycled plastic bottles. The structure of the housing is a steel cage containing plastic bottles. It is then covered with concrete. These constructions are earthquake resistant.
The result is impressive, as they offer a particularly effective insulation: the temperature indoor is colder than 17 degrees to the outside temperature.
His message is not to make us build houses with plastic bottles worldwide. This solution answers a specific case, that of plastic bottle recycling on the island of Colon. Buzeau goes on to explain that the average human being consumption is 15 or more plastic bottles per month. This will go through some 14,000+ bottles in their lifetime, but by building a two-story plastic bottle house, that same amount of bottles could be removed from the atmosphere and put into service as insulation, efficiently neutralizing that plastic footprint.