The internet is helping to raise money for farms as an alternative to taking loan from banks.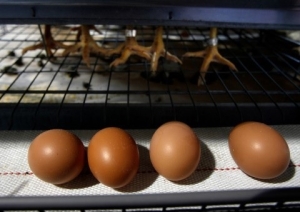 In 2012, Micha and Andrew Ide created Bright Ide Acres in Snohomish, Washington. This farm is meant for the production of ethical eggs and meat.
They lease a 12-acre plot of land, fenced it and bought chickens, sheep, goats, pigs and turkeys from their own savings. There was an increased demand for turkeys which are flightly. However, the turkeys escaped from their moveable electric fencing into other farmers' vegetables fields in the neighbourhood.
The couple didn't want to change to an indoor farming style but they couldn't let them keep getting out. They have only two solutions; either raise the money or put an end to raising turkeys.
A "turkey tunnel" was thus designed and it would give ample space for the hundred turkeys to settle and walk around. As it is covered they are protected from predators and cannot go out to eat the neighbours' vegetables. The tunnel would cost £2,800 ($4,000) but the Ide's could not find this money from their savings.
The couple did not turn to the bank but rather approached Barnraiser. This is a new social community and crowdfunding platform for sustainable food and farms. They obtained $4,980 from 60 donors who have been supporting them.
"Among the contributors were some of our actual customers. I am delighted as they are already buying our meat and were willing to help to sustain our farm," Micha told.
Along with Barnraiser, Kickstarter, Indiegogo, and GoFundMe are all Crowdfunding platforms which enable you to obtain online funding for your projects. In return, farmers reward them by some giveaways like caps or t-shirts or even some products from the farm.
Source: www.theguardian.com