In Seine-Saint-Denis, Yann discovered the Butte Pinson farm, a place that revives the link between young (and old) and nature. Environmental education, innovative insertion device, eco-grazing, short circuits, recycling of expired food products… Follow the guide! (Article of Yann Le Beguec, Collibris)
Paris, Monday morning. I get on the Regional Express Network (RER) to explore an urban oasis! The Butte Pinson is between Pierrefite-sur-Seine and Villetaneuse. Forty minutes later, I arrive at the heart of a residential area. It does not take long for me to lead to the top of a hill, and seeing a small wooden panel: Educational farm of Butte Pinson. I'm there!
An innovative business model, permanently anchored in social action and a popular education
9:30: everyone is already at work. Jacky is leading a group of children of 5 or 6 years in the pen of hens. Stéphane, assisted by two interns, is cleaning the fold and the rabbit's hutches. Some young are sorting out unsold food collected from a large partner shop to recycle what can be. We learn afterwards that these youngsters, with minor penalties, are performing some rehabilitation works of 60 to 200 hours on the farm. Here, the rate of non-recurrence of these young people is 97%, well above the national average!
A truck loaded with hay arrives and Julien, the manager of the place runs out, arms in the air, waving with gratitude the arrival of the hay that was well missed by the animals! After an express training, I grab the fork that holds out, and I tried to bring a bundle of straw to the hangar without throwing any on the way. Julien seizes the opportunity to tell me about the place.
Founded in 2009, this educational farm accompanies youth "under court" to a sustainable integration, through the framework and healing that comes from farm life. The firm contributes to the development of eco-grazing, works in short circuits, recycles unsold food products, and develops eco-construction.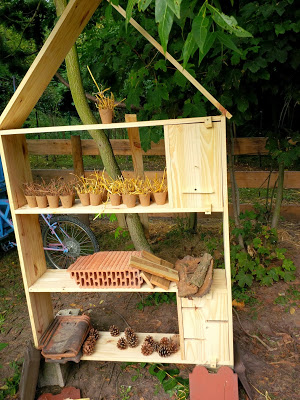 Courtesy: Colibris
With their expertise and their big heart, Julien and his team are having outstanding results: with over 10 000 children visits last year, 8 tons of recycled food, 8 m3 of compost created, 32 works of artists in store, and a tavern to spend the summer evenings…
Who wants to create an oasis, this place is a dream: an innovative business model, permanently anchored in social action and a popular education!
And they do not want to stop there. They just obtained 5 hectares of land in Villetaneuse. Between a city and the University of Paris 13, they develop the Alternatives Farm: vegetable growing and extending the farm, according to a principle of permaculture design and two cheap restaurants for students and locals alike!