This school in Bali has been recognized as a world reference. With a passionate community of teachers, learning takes place in an unusual environment.
Green School is an international private school situated in Abiansemal, Badung and educates for sustainability through entrepreneurial learning integrated with the community in a natural environment with classrooms without wall.
"Our holistic, student-driven approach inspires and enables us to be green leaders. We can change the world only as communities," says John and Cynthia Hardy. This American couple is at the base of the Green School after becoming aware of the dangers of climate change in 2008.
The natural wall-less campus is an architectural marvel in the middle of the jungle on the magical island of Bali. The bamboo palace inspires open minds, open hearts and a great love for the environment.
We trust the Green School could serve as a model for other schools in the region in the field of sustainable energy – Al-Hosany
At the Green School, students follow the traditional Anglo-Saxon educational program taught from Kindergarten to Terminal, with the sustainable side in addition. They can design aqua-farms, calculate the school's carbon footprint, participate in the preservation of Bali starlings or write poems inspired by gardens and flowers. Each class has a vegetable garden to cultivate rice, fruits and vegetables.
Students, teachers, parents, staff and neighbours learn, work and play together to inspire and encourage each other to live a determined life.  "We want to create a generation of responsible citizens, capable of acting for the planet. We teach them to consume fairly, to save energy, to garden and to profit from the benefits of the land without polluting or wasting," the Hardy couple explained.
The Green School of Bali has made the island proud on many occasions. Voted as the "Greenest School in the World" by the US Green Building Council in 2012, the Green School just won the Zayed Future Energy Prize in the high school category for the Asian region. The prize, set up since 2009 in Abu Dhabi, identifies the pioneers of renewable energy and sustainability in five distinct categories.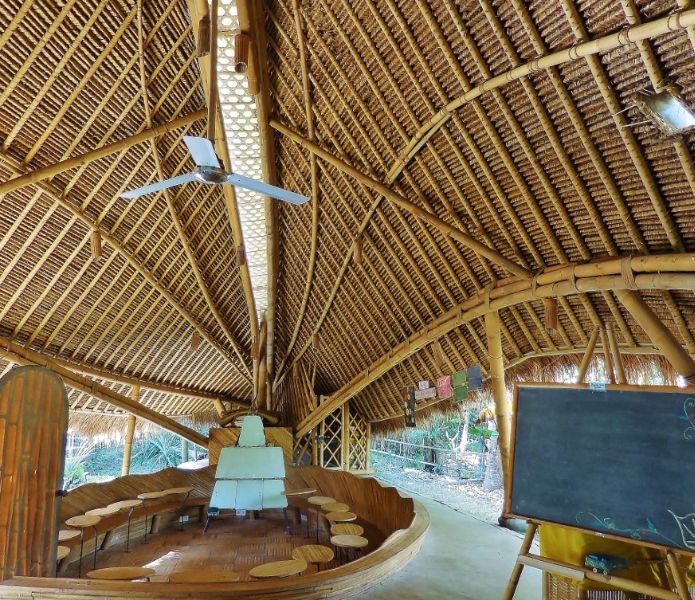 The Green school wished-for the installation of a 10 kW photovoltaic solar system and a battery bank from used laptop and laptop batteries with a capacity of 32 kWh. This project would reduce the school's carbon emissions by 22 tons per year and would also reduce the costs of the school's public services.
Students will play an important role in the plan, working on energy production, storage and distribution of the system, battery technologies and project management.
The director of the Zayed Future Energy Prize, Nawal Al-Hosany, had very complimentary words for the Green School.
"We are stunned by their vision that ensures sustainability (in the energy sector) for future generations. We trust the Green School could serve as a model for other schools in the region in the field of sustainable energy," Al-Hosany said.