A farm in Brant, southeast of Calgary was challenged to produce all the energy it uses to reduce its ecological footprint or 30,000-kilowatt hours per year. (Article from ICI.RADIO-CANADA.CA, 26, July 2016)
The Brant Hutterite Colony has about 13,000 hens, staying in a barn. They lay one egg per day and since January, they are free.
One of the owners of the farm, Daril Mandel says that "demand was growing for eggs from cage-free and well-treated hens."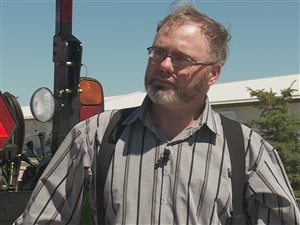 To ensure that we respect their hens, the owners have installed cameras that monitor employees at all times.
Moving from a system of conventional cages in the barn has not been without difficulty. "It costs 30% more expensive, but in the long-term, the Hutterite community knows it is doing something for future generations," urging Daril Mendel.
The Hutterite community, the owner, received a $ 250,000 funding from the province, largely to finance the hundreds of solar panels on the roof.
The new farm, which cost about a million dollars to build, is equipped with an electronic system to monitor the production and consumption of energy.
A firm that draws attention
Nathan Pelletier, a researcher in the field of egg production and green technologies, came from Kelowna, British Columbia, to see the facilities.
He explained that this is the first firm of its kind in Canada and could inspire other farmers to follow suit to reduce their emissions of greenhouse gases.
The Association of Alberta Egg Producers, who oversees the project, expects to receive the first preliminary data in one year.
It will then have a better idea about whether or not to add more solar panels to increase electricity production.
The agriculture sector produces 8% of all emissions of greenhouse gases in Alberta.
Daril Mandel is co-owner of an ecological farm in Brant, Alberta.
Save