Rainfall has become more irregular in Kenya due to climate change. Moreover, currently used diesel-powered irrigation pumps are highly polluting and carbon intensive. A solar irrigation pump known as Futurepump has made work easier for small-scale farmers.
Water is a scarce resource in most parts of Africa where only around 5% of cultivated land is irrigated, compared to 41% in Asia. It is a known fact that irrigation is an important component in improving agricultural production. There are different types of irrigation techniques and they are differing in how the water obtained from the source is distributed within the field. Generally, the objective is to provide the whole field homogeneously with water, so that each plant has the amount of water it needs, neither too much nor too little.
The objective is to provide the whole field homogeneously with water
In Kenya, apart from the unavailability of water, available diesel engine irrigation pumps are another threat to the environment with significant release of CO2 in the atmosphere. With pollution, water scarcity and also lack of financing, farmers are, therefore, on the lookout for sustainable irrigation solutions.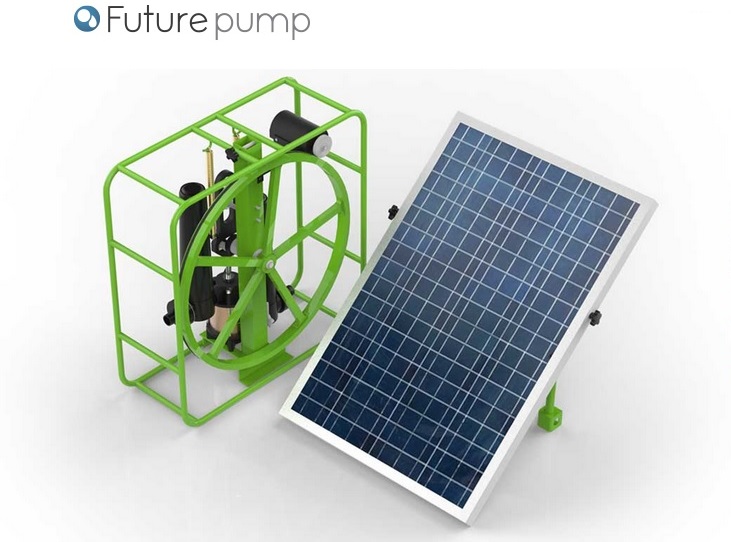 In an effort to help the Kenyan farmers, and based on Kenya's solar potential Futurepump has invested in solar powered irrigation pump to allow them adopt sustainable irrigation solutions.  Furthermore, they have been granted financing with flexibility for refunding the loans. The latest US$ 637 pump required a US$414 down payment, with $25 a month repayments until it is paid off.
This solar powered irrigation pumps, combined with low-pressure drip systems, is an eye-catching technology that can significantly improve harvests, efficiency and farmers profits but at the same time avoid considerable amounts of GHG Emissions. It is expected that the growth of a market for a renewable alternative could avoid the emissions of almost 3 million tonnes CO2 yearly by 2030.