After the obligation for a vegan diet for the players, British football club Forest Green Rovers is getting greener. The club, based in Nailsworth, Gloucestershire, commissioned a 5,000-seat stadium which would become the greenest stadium in the world. It would be entirely built from wood and powered by sustainable energy sources.
London-based Zaha Hadid Architects won the design contract. This jewel would include an undulating bowl made of wooden slats. The position of each of its seats will be calculated to give viewers a great view of the ground. The stadium could potentially accommodate 10,000 spectators in the future if the club develops sportingly.
The president of Forest Green Rovers, Dale Vince, is very pleased with this initiative. "What's really amazing about this stadium is that it will be exclusively made of wood that has very low carbon content. This will be a world's first regarding football stadium," he said.
The stadium could potentially accommodate 10,000 spectators in the future
Zaha Hadid Architects designed many world-class stadiums, including the famous Aquatic Centre for the London 2012 Olympic Games and is currently working on a stadium for the FIFA World Cup 2022 in Qatar.
The director of Zaha Hadid Architects Jim Heverin, for his part, explained that his company has the same vision of this 5th Division club. "The club's aspiration and vision reflect our own, combining the latest technical research and building material with new design approaches to build a more environmentally sustainable and inclusive architecture," said Heverin.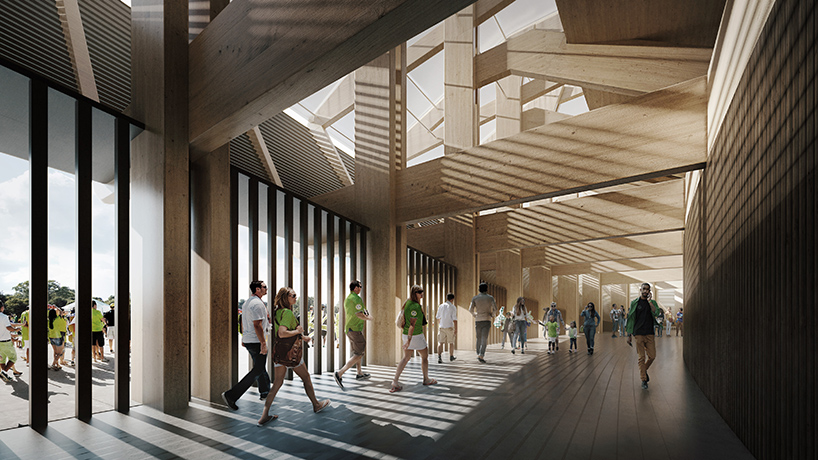 In fact, the stadium will be part of an ecological park of 100 million pound sterling with a total area of 100 hectares including a nature reserve, a public transportation hub and the restoration of the Stroudwater Canal in Gloucestershire. This development will be driven by renewable energy company Ecotricity headed by Dale Vince.
"The development of this attraction aims to be carbon neutral or negative, generating its own energy on site. Fifty percent of this ecological park will be dedicated to sports facilities, whereas the other part will house a business park for green technology", the promoters announced.
If no date has been given for the delivery of the stadium, a rule has already been set: lighting a cigarette will be forbidden inside.