Inspired by Mother Nature, the Wind Tree is an innovative wind turbine worthy to be referred to as a sculpture. Aesthetically impressive, surprisingly quiet and not really cumbersome, it is a wind turbine Made in France that can collect even simple wisps of air to produce electricity.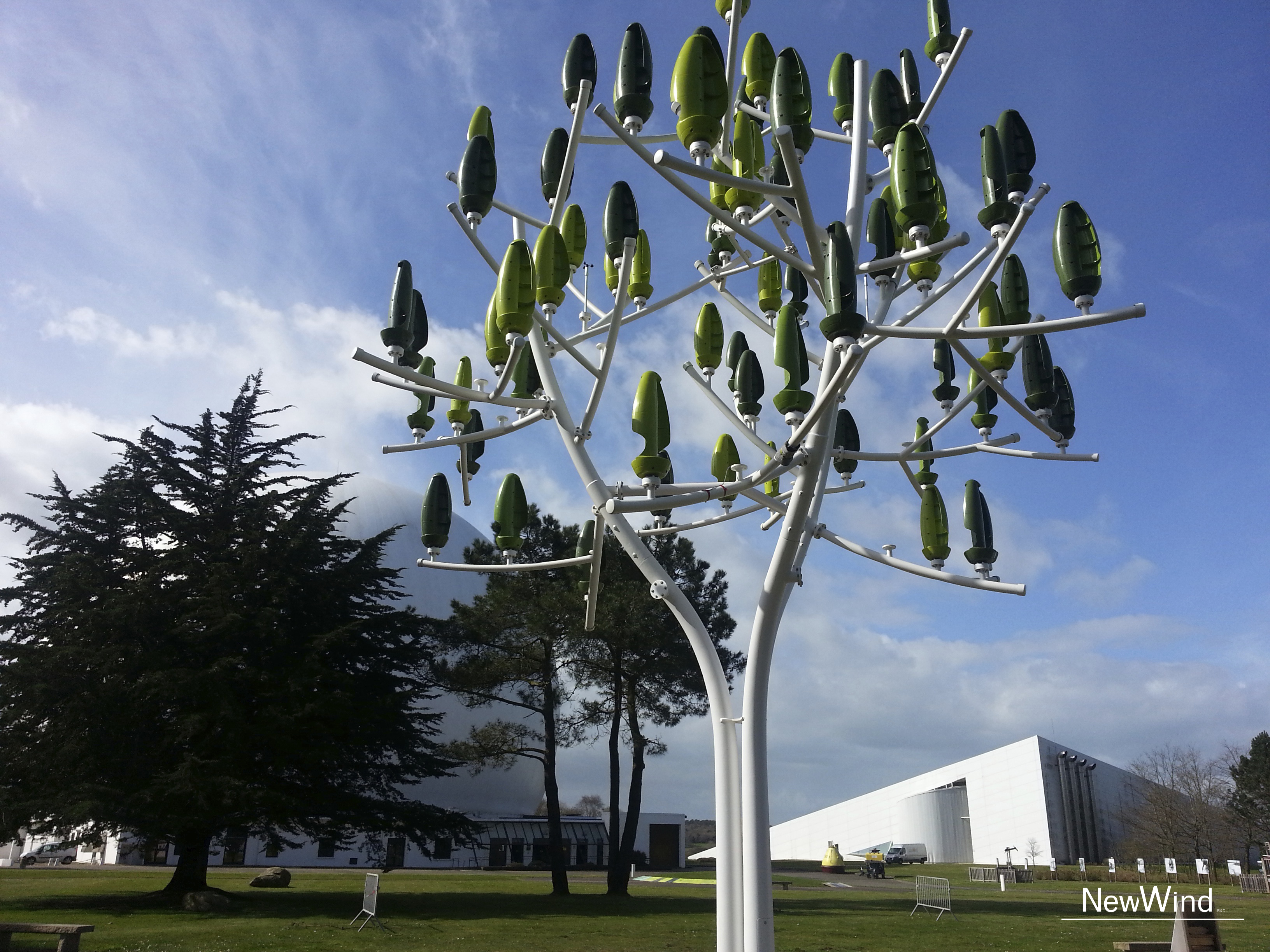 The idea of creating the Wind Tree sprung in the mind of Jérôme Michaud-Larivière, founder of the Parisian start-up NewWind, when he "saw the leaves shiver in the absence of the slightest puff of wind." In fact, the young company feeds the ambition to reconcile technology and nature in its projects. Jérôme Michaud-Larivière, who is a former cinematographic writer, thought that it would be wise to try recover this unsuspected energy.
Go-getter, he launched himself ambitiously with his engineers in researches aimed at developing a vertical wind turbine, similar to a tree, which could capture the air 360 degrees through biomimicry.
After three years of research the Aeroleaf was born. Designed with small blades, it represents the "leaves" of the Wind Tree that generate electricity by capturing the slightest breath of air by swiveling on itself.
The Wind Tree contains on average 63 Aeroleafs that spin like micro turbines to generate approximately 2,400 kWh in total.
This amount of electricity generated can easily feed 83% of the electricity consumption of a French household (excluding heating), an electric car on 16,364 km a year, lighting of 71 seats on a parking lot or 15 lamps of 50W each
The Wind Tree thereby avoids 3.2 tons of CO2 that would be emitted by burning fossil fuels to produce the same amount of electricity. Designed to brave the elements, the turbine's life can be extended up to 25 years.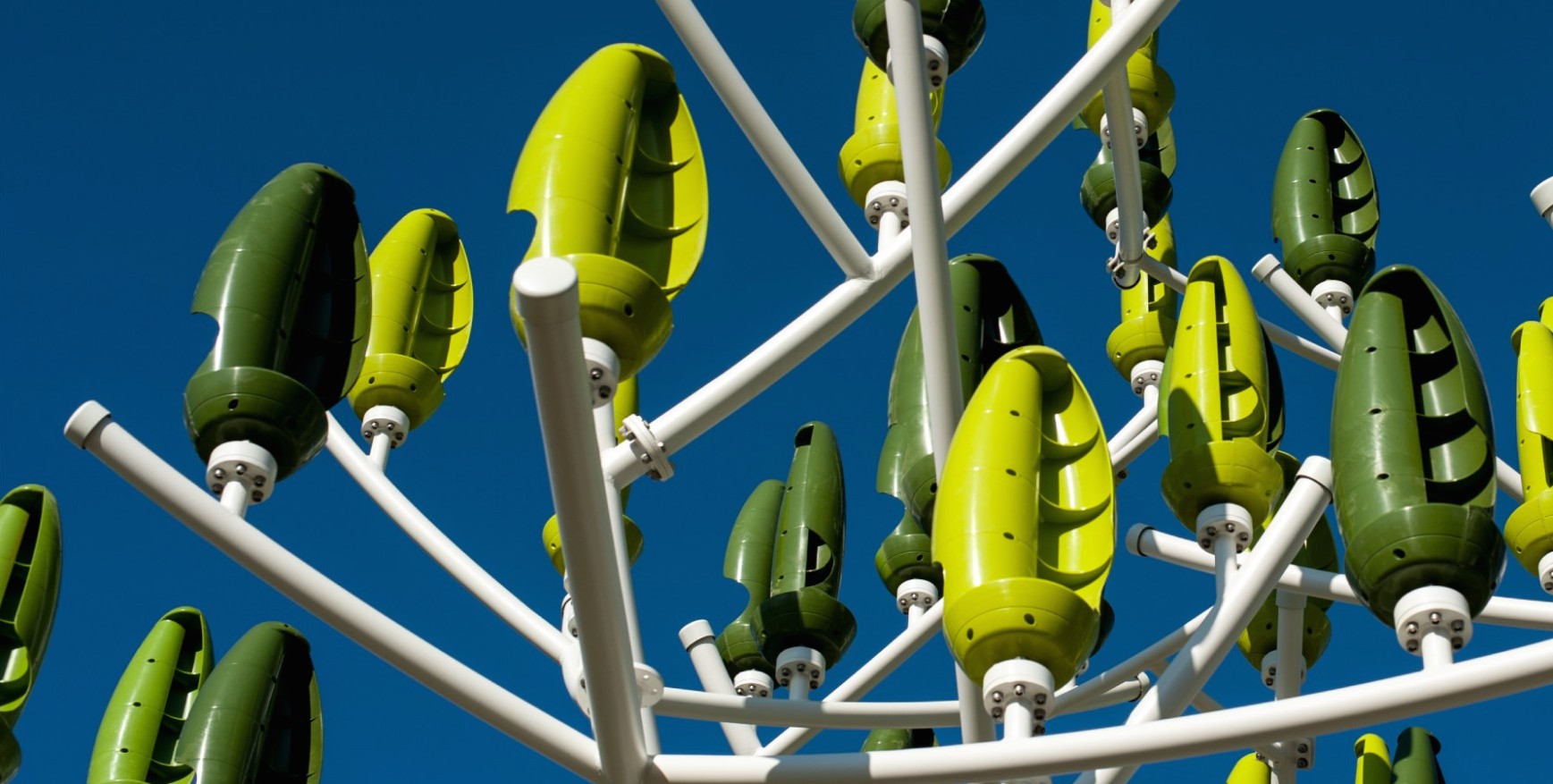 This new generation of wind turbines goes further than its traditional counterparts by hardly emitting any noise. Before the creation of the Wind Tree, the noisy turbines were always being placed far from residential areas. The gigantic traditional models were even considered as eyesores.
The Wind Tree comes to break this stereotype. Even if it looms with its 10m height and 8m width, with a weight of 3 tons, it integrates easily and seamlessly with any landscape, be it urban or rural. The Aeroleafs are mounted on white branches which, on their turn, emerge from a steel core. Elegant, the Wind Tree can easily beautify a city landscape.
The region of Paris, Britanny or even Germany have not delayed to acquire this innovative wind turbine. The first Wind Tree was "planted" at the Parc du Radôme, Pleumeur Bodou.
The startup NewWind which was presented at COP21 in 2015, receives many requests from large companies as well as local authorities wishing to supply electricity to municipal buildings and shopping centers, as is the case in Germany.
Ecological wind energy is already taking root in several cities. The cost of the tree remains quite high though. The industrialization phase was made possible by a fundraising campaign on Wiseed platform.
NewWind does not plan to stop here. Research is under way to improve the look of the wind turbine, make it less costly and more durable. Jérôme Michaud-Larivière, on his side, is already imagining a wooden trunk to replace the steel trunk and natural fibers to make the leaves.