Hajj, the Muslims annual pilgrimage, seasons will come in hot weather for the next 10 years and many pilgrims may be subjected to sun strokes, warned a study conducted by the Institute of the Custodian of the Two Holy Mosques for Hajj and Umrah Research. To this end, a Saudi-Palestinian firm invented a smart umbrella for Muslims performing the Hajj pilgrimage scheduled from 9 to 14 September.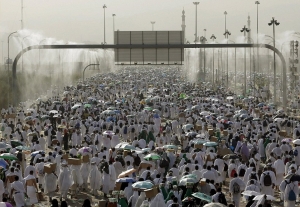 The Kayfa Smart Umbrella has a built-in fan, a flashlight and a navigation system (GPS). This multipurpose umbrella transforms sunlight into electricity which is then used to generate power for the umbrella's different features.
According to Manal Dandis, co-inventor, the umbrella is equipped with solar panels on its top. "These Solar Panels absorb solar energy and transform it into electrical energy which is stored in the handle", Dandis explained.
With more than three millions pilgrims, the GPS will easily allow them to locate themselves in larger areas like Mina, Arafat and Muzdalifa. The umbrella also has three USB outlets which act as a power bank allowing charging mobile phones and other electronic devices.
The Hajj seasons will fall in the hot summer months of September, August, July and June in the coming 10 years. According to the research there was a high rise in cases of sunstroke during last year's Hajj season. "Sun strokes and other diseases of summer will continue to afflict pilgrims during upcoming seasons," it said.
Sun strokes and other diseases of summer will afflict pilgrims during upcoming seasons
In 2015, some Saudi doctors on the field, in the region of Arafat, told pilgrims temperature was around 50 to 52 degrees.
Makkah and the surrounding areas will be too hot during the next decade and notified pilgrims to take the required precautions to remain protected.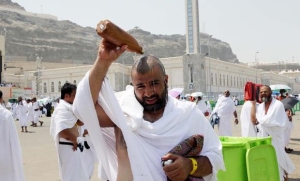 The study informed pilgrims to take their precautions and avoid the direct rays of the sun, use umbrellas, take a lot of water and soft drinks, cover their heads, wear light clothes and put the air conditioner on while taking a bath.
According to the study, there were 1,014 cases of heat exhaustion, 723 sun strokes and 1,737 heat injuries during the pilgrimage last year.