In one month, President Barack Obama will leave the White House, but with several good deeds under his belt — one of them being the establishment of the first marine national monument in the Atlantic Ocean. As reported by National Geographic, "under authority of the Antiquities Act, President Obama set aside 4,900 square miles of the Atlantic for preservation. The monument prohibits fishing and mining, in an effort to protect deep-sea species that reside in the undersea canyons and extinct volcanoes more than 150 miles off the coast of New England, where the continental shelf drops off into the abyss."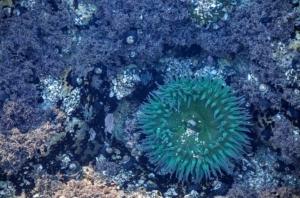 The Northeast Canyons and Seamounts Marine National Monument stretches between two distinct areas. The first, running in a strip along the edge of the continental shelf, will protect three canyons and the species that live on their walls: deepwater corals, anemones, and sponges. The second area — south of the continental shelf — will protect four submarine mountains, which are more than 7,000 feet tall. Bear, Physalia, Retriever, and Mytilus are a hundred million years old volcanoes, which were formed by the same hot plumes of magma that created the White Mountains in the state of New Hampshire.  
The underwater reserve of New England isn't only protecting endangered species, such as North Atlantic sperm whales forage, and a unique ecosystem with  branching bamboo corals, but as per the White House's statement and National Geographic's report, it will also "create natural laboratories for scientists to monitor and explore the impacts of climate change".  As Peter Auster, senior research scientist at the Mystic Aquarium and research professor emeritus at the University of Connecticut, has said:
"They are places that represent how much we have yet to learn about the oceans. They are outstanding repositories of our natural heritage for the future".
The establishment of the New England monument comes as an addition to President Obama's underwater protection actions. Only two months ago, he expanded the Papahānaumokuākea Marine National Monument in the northwestern islands of Hawaii to more than half a million square miles. At the moment, this is the largest protected area on Earth, and Mr Obama is the president who has protected more acreage than any other president, passionately communicating that "there's no conflict between a healthy economy and a healthy planet".