It will be a world's first. The Energy Observer is an experimental catamaran that combines solar, wind and self-generated hydrogen intelligently. The challenge? Navigate for 5 years around the world as part of an expedition to the energy transition with the ambition to be the world's first boat to be energy self-sufficient.
"Energy Observer" is actually the latest transformation of a famous racing yacht built in Quebec in 1983, the "Formula Tag".  Designed by Nigel Irens and skippered by Peter Blake, this catamaran was then considered the largest in the world and has a more than respectable chart since it won the Jules Verne Trophy in 1994 under the name of Enza after having completed a world tour in 74 days.
Energy Observer should also help to develop clean energy solutions for terrestrial applications
The legend of sailing has been resurrected like a phoenix on its 33 years anniversary.
The team behind this crazy project is very diverse: first marine Victorian Erussard and Frederic Dahirel, then the director-diver Jerome Delafosse and engineers from Innovation Laboratory for New Energy Technologies and Nanomaterials (Liten) of CEA Tech.
To produce energy, "Energy Observer" combines hydro, solar panels and vertical axis wind turbines. It will store this energy in fuel cells, Li-Ion batteries as well as hydrogen produced by electrolysis of seawater. For propulsion, it uses a semi-automated traction kit which will allow it to bypass the pole.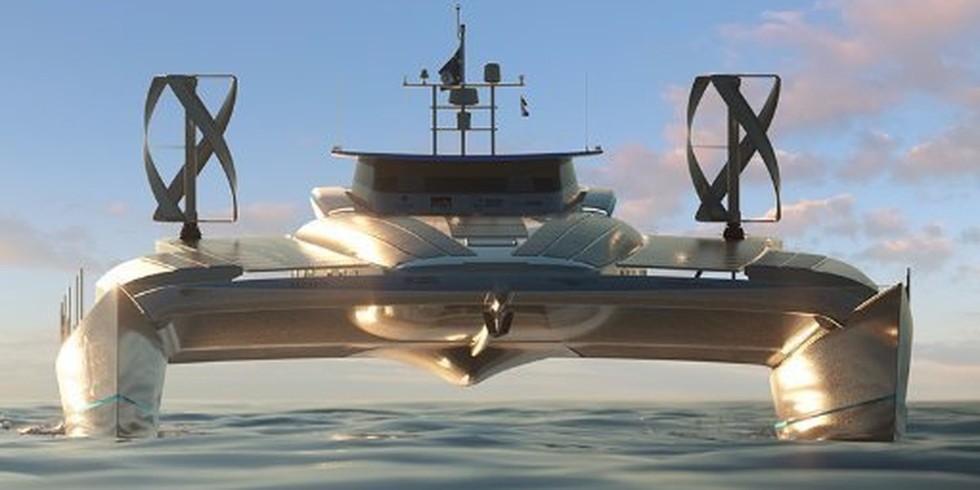 This odyssey of modern times will take place in two stages: from 2017 to 2019, a tour of Europe and then from 2020 to 2022, around the world to address all continents with 101 stops to set and meet innovative and practical solutions to enable better life while protecting the environment and the planet.
Jerome Delafosse, on board, will produce images of this scientific and educational epic alongside Florence Lambert, Director of Liten, and Nicolas Hulot is also sponsoring "Energy Observer".
Beyond the image and the symbol, "Energy Observer" should also help to develop clean energy solutions for terrestrial applications, by testing them at sea.
Helm to starboard, then, to the energies of tomorrow for its maiden journey in February 2017!