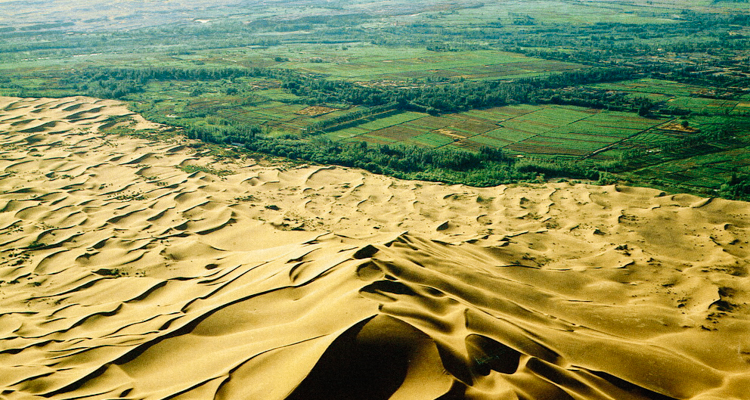 It could become one of the wonders of the world. Launched in 2012, the Great Green Wall is made of vegetation and extends over thousands of kilometers across Africa. Designed to slow the spread of the Sahara desert, it is taking shape.Since planting began in 2012, significant progress has been made. In the end, the Great Green Wall is expected to take approximately 14 000 km with a strip of trees and shrubs starting on the southern border of the Sahel desert of the Sahara, through eleven countries and ending west of Djibouti on the Indian Ocean coast.
Since planting began in Senegal, 11 million trees have been planted on an area of 27 000 hectares. They are indigenous trees that do not need watering.
A number of animals – antelopes, hare, and birds – which had disappeared in these regions for over fifty years have reappeared.
Senegal also widely planted acacia trees that can be harvested for the Arabic gum, a substance used in the manufacture of pharmaceutical products and soft drinks.
Other native trees are planted to maximize shade and avoid losses and shrubs which can graze.
In Nigeria, 20 000 rural jobs were created in the wake of the project. In Mali, Burkina Faso and Niger, around two million seeds have been put in the soil.
Adopted by the African Union in 2005, the Great Green Wall project was launched with $ 4 billion US dollars. This funding was made possible by the signatories of the historic UN summit on climate change in Paris (COP21).
Other promises were made by the World Bank and the French government, a key former colonizer of the continent.
Since the 1950s, people have dreamed of planting a wide wall of trees
Since the 1950s, people have dreamed of planting a wide wall of trees to retain the spreading sands of the Sahara desert. If the trend of the current desertification continues two-thirds of arable land could be lost.
"The Great Green Wall is more than planting trees. It is strengthening the resilience of communities and the development of sustainable projects to give young people reasons to stay home," said Camila Nordheim-Larsen of the United Nations Convention on the fight against desertification to Thomson Reuters in Dakar.
Indeed, this huge green belt should halt desertification that might otherwise force about 60 million Africans from their homes, causing massive migrations.