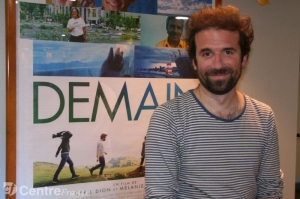 'Demain' is breaking a record in its category with over 1 million viewers in six months. The César for best documentary at the 41st César Awards 2016, and already broadcast in thirty countries; the latest being on the Indian Ocean Island of Mauritius yesterday. Co-director of the phenomenal documentary 'Demain' (Tomorrow) Cyril Dion is an artist who tirelessly continues to carry his message: another "history of the future" is in the process of being invented … Cyril Dion gave an interview to French paper L'Express on 19/06/2016.
How are you living the success of your documentary?
I need some peace, after nine months "touring" to realise what we live. But with Melanie, we are delighted. Everywhere, 'Demain' is becoming a tool to bring together local elected officials, entrepreneurs, citizens to stimulate or create individual and group projects. It is perfectly exhilarating.
After the book and the DVD, a new version of the website is announced?
We receive daily hundreds of emails telling us about the initiatives generated by the film: people want to take ownership of the future. Given the demand, we do work on an extension of the site that will allow everyone to present its projects. It's a real challenge, but it is for all to imagine new solutions, and share.
According to you, what do we most need for the future?
To hear, it is not yet too late, and the potential exists: we all need hope. Showing positive and concrete initiatives that have proven themselves over the places, it was our bet for 'Demain'. And because he is resolutely optimistic, the film has become, for many, a powerful engine of change.
As if the French needed they are offered an "other" project …
There is now in France and in so many other countries, such mistrust towards politicians that people are asking for alternatives. When some choose to withdraw into themselves, others choose to open. They are the ones who came to see 'Demain'.
Your film has led people to rethink their lives?
That's what's more fabulous! Everywhere, people of all ages tell us how the film has especially led them to question their choice of profession, or how they exercise. I think, for example, about many farmers who have decided to move from intensive farming to permaculture. They thought about it already, but the film gave them the legitimacy to take the plunge.
Do you think we arrived at a tipping point in the history of mankind?
Something very important is going certainly. It is not a coincidence that 'Demain', like 'Merci patron!' (Thank boss !), is mobilising crowds to this point. We are more and more feeling responsible for the choices that must be made within twenty years. And, yes, I think the world is ready, mature enough to work in an enviable future.
Does it happen that you are being called a utopian?
This happens, even if the film shows tangible experiences. But I have arguments when regions like  Paris, La Rochelle, Dreux, Grenoble or even the Gulf of Saint-Tropez are relying on the film to set new cooperation projects between elected officials and citizens, may we still talk about utopia?
You are also the spokesman of Colibris (humming-bird), an organisation that mobilises for a greener and more humane society. Will we hear from you in the presidential election?
If the film worked well, then maybe my place should continue to be on the artistic side of the movement … But that does not prevent me to support political projects I believe.
What are the initiatives that you want to support?
Those that go in the direction of what we present in 'Demain' … If Nicolas Hulot launches a collective movement, for example, I will support.
'Demain' evokes the future of humanity. But what about your future?
I'm working on a new movie; a fiction that imagines what might look like a revolution that would take place over the next twenty years. A global revolution that would not create chaos and would not cut heads. I am convinced that this is very possible. The film should be released in 2017.
You have two children. How do you evoke the future with them?
I try to talk to them about the present. Of what is happening, what we can do and how. I try to be as consistent as possible between what I say and what I do. To explain my choices. And then I wrote, with Melanie, a story for them. I put in it all I wanted to tell them about the future!
Save