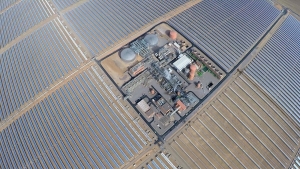 It is a very ambitious project. The Ouarzazate Park, in the Sahara desert to the southeast of Casablanca, will become the largest solar power complex in the world. According to its promoters, the total capacity of power generation will be 580 megawatts (MW). Jeune Afrique magazine presents five aspects of the Noor solar plant.
The first part, called Noor-1, was launched in February 2016 while Morocco hosts in December the COP 22. The project will soon be supplemented by three other solar fields: Noor-2, Noor-3 and Noor-4.
3 437 football fields
The first phase, Noor 1, spans over 400 hectares. But ultimately, when the other three phases of the project are completed, the plant is expected to extend over 3093 hectares, which would be equivalent to the size of 3437 football pitches.
Electricity for one million homes
Noor-1 will have a production capacity of 160 megawatts. It is the "greatest production ever developed in the world," the Moroccan Agency for Solar Energy (MASEN) told. The solar panels will include more than 20,000 collectors which follow the movement of the sun throughout the day. The energy produced will then be stored for three hours, thereby producing electricity even when the sun is set. When all four phases are completed, it should be able to provide electricity to one million homes.
Provide 52% of energy needs for Morocco in 2030
The objective of this project is to supply Morocco from 52% of its energy needs from renewable energy by 2030 because the energy bill is quite bulky for the Moroccan economy.
240,000 tons of CO2 each year
According to the African Development Bank, the first phase will prevent the return of 240 000 tons of CO2 per year; that is, 6 million tons of CO2 in 25 years of operation. When Noor-2 and Noor-3 will be functional, 19 million tons of CO2 will be avoided in 25 years, said ADB said.
Costing $ 9 billion
A huge investment of $ 9 billion must be raised to complete the project. The African Development Bank, the World Bank, the European Investment Bank and several private partners are involved in this project. The German development Bank KFW has provided principle funding of € 400 million while some € 800 million has been invested in the project.