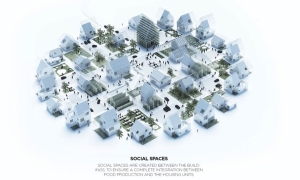 A local community capable of producing its own food and its own energy? Many of us dream about it. For some, this dream will become a reality in a new neighbourhood built in the suburbs of Amsterdam. Let's discover ReGenVillages. (Article extracted from mrmondialisation.org, June 5, 2016)Hundred homes for an almost 100% autonomous community! This is where the inhabitants of a small village of the municipality of Almere, just twenty minutes from Amsterdam, will live a happy future. A village that will be self-sufficient in food and energy! A project of hope for future generations, whose realization will begin this summer on the basis of a concept from the U.S.A. in partnership with the Danish architectural firm Effekt.
A new generation of sustainable communities
The approach is particularly interesting because it allows introducing several industry solutions and articulating locally around a reflection on the society of tomorrow. Because everyone knows today, the future may seem uncertain and local autonomy may be an important asset to face the possible shortage of primary resources, including fossil. According to the original firm of the project: "the RegenVillages are integrated high-tech communities which aims to answer some of the most pressing global challenges – social, financial and above all environmental." The idea is based on the Annual Report of the United Nations Sustainable Development in 2015 that it is necessary to create self-sufficient local communities worldwide. This observation prompted Sweden, Norway, Denmark and Germany to develop similar projects …
According Effekt, the project is based on five pillars:
Houses with positive energy;
A local organic food production;
Production and energy storage through a balanced mix;
Recovery and recycling of the water and waste in a closed circuit;
Autonomy and community resilience
Off-the-grids and local resilience
The method used is inspired by one of the ideas that is the basis of the concept of permaculture as it was presented by Bill Mollison and David Holmgren: "the problem is the solution." In this case, the solution to environmental problems and population growth is in what designers call the off-the-grid, i.e. self-sufficiency and maximum independence from public infrastructure. An idea that is not unlike that of community resilience or the central slogan for growth objectors: think global, act local!
According to their architectural prism, food self-sufficiency must be achieved through the most advanced production techniques. Through research and the latest discoveries in this field, it is possible to produce sufficient amounts of food in a small space. The designers wish to take advantage of the benefits of several methods: aquaponics, aeroponics, and permaculture and forest-gardens.
Similarly, everything is designed to meet the energy needs of the inhabitants. Here too, different sources are considered: solar, wind and geothermal. This is the energy "mix" that can cover all needs at all times. Finally, all the waste produced by the community should be recycled on site to leave no trace.