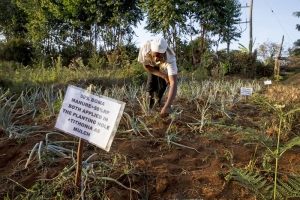 Swiss Research Institute of Organic Agriculture (FiBL) in Kenya has undertaken a 10-year research showing that organic agriculture produces similar yields like the traditional methods but is more profitable. (Article published on the website of FiBL, June 30, 2016)
This study started in 2007 contradicts the established theory that organic farming would need more space for the same amount of crops. It also shows that after 5 years, the income of organic farmers is beginning to be higher with a profit of 63% in the sixth year.
Long-term project "Farming Systems Comparison in the Tropics" of BioVision Foundation aims to provide the scientific evidence on the benefits and disadvantages of organic farming systems compared to traditional systems.
The transmission of knowledge was one of the main efforts of the Foundation to support smallholder farmers in East Africa to enhance their livelihoods.
The collaborative research approach on farms is used to develop and promote farming practices adapted to local conditions for sustainable agriculture. With the participation of local farmers and other stakeholders, various field tests are carried out to analyze various innovative practices in farms and research stations.
No chemical inputs in organic agriculture
The objective is to support the development of strategies that promote the adoption of sustainable operating practices of soil locally, regionally and internationally.
The research of FiBL also brings to light that in organic farming the soil becomes more fertile. Furthermore, as there are no chemical inputs in organic agriculture it has various advantages on the ecosystem but also on the human health. To test the study, similar researches have been carried out on the production of cotton in India and cocoa in Bolivia. Both have shown likewise affirmative results for the organic approach.