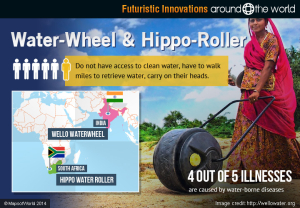 It is an invention that gives a smile to millions of women worldwide. Known as the Hippo Roller, the Q Drum or the Wello WaterWheel, this barrel was designed for the same purpose: ease the burden of women living in rural areas, particularly in Africa and India where water is inaccessible. This barrel, which can be pushed, can transport water more easily and more efficiently than the traditional way in which women were forced to carry heavy buckets or pots of water on the head by walking kilometers.Thanks to this revolutionary invention, the almost iconic image of women swaying on dirt roads with containers on the head is replaced by a more jovial representation. In areas where houses are not supplied by a water system, children were also forced to spend hours every day to fetch water. It was even the first thing they did in the morning and many were absent from school. Mothers and girls, meanwhile, had to walk several kilometers to a water point and had to make this trip many times since a bucket is not enough for an entire family use.
    Ease the burden on women
This task, done according to the traditional way with buckets and pots, takes about 200 million hours per day worldwide. The barrel, made of incredibly resilient plastic, is easy to push even over rough and steep fields. Children and women thus take less time to complete this chore. The elderly also needs to rely on the goodwill of others to get water. Some models of the barrel, as the Hippo Roller, can contain up to 90 liters of water; thus reducing the number of trips. This ingenious invention also reduces the negative effects that the buckets and traditional pots have on the health of the carriers.
The inventors of this concept are two South Africans, Pettie Petzer and Johan Jonker. The Q Drum has also been created in South Africa. Thereafter, the barrels have been tailored to serve different regions. An American has also used this concept to come forward with the WaterWheel. He tried several prototypes in India, especially in Rajasthan, Haiti and Mexico. His aim is to provide clean water for consumption to a thirsty world.